I'm not sure where to start with my review …. after a longggggg game of hunting for a safe, trustworthy and genuine breeder we thankfully found Jess and Henley cavapoos… having a family background with breeding I was well aware of the information Jess needed so was only too happy to answer all her questions, in fact I gave her so much info on us as a family that I think I apologised for it being quite a long email! Anyway what came back was the email I'd been waiting for… we were now on the waiting list for our forever cavapoo girl….
Jess made it clear as best she could when we would expect to hear from her and after Xmas she checked we were still wanting to be on it, which obviously we were! So a few months later we then received the big one… the email to say that puppy's had arrived and one was reserved for us however this coincided with the dreaded "lockdown" however despite not being able to visit Jess kept us fully up to date with "pupdates" and all the information we would need…. we were still able to choose our puppy and don't feel we missed out being unable to visit due to Jess's brilliant videos and contact with us…. so on Easter Sunday we chose our little girl "Roxy" …. we were then once again kept fully informed on everything … and collection (although still under lockdown) was possible due to Jess being so professional and thoughtful …. so we finally brought home our little bundle of fluffy, tail wagging craziness to introduce to our girl's ( 13 & 9) who had no idea whatsoever what we had gone to collect!!! Since that day Jess has been available whenever I've needed some advice on feeding, training and just to send the odd photo too!
If I'm honest I still actually cannot thank them enough for what they've given us as a family, we have many many years ahead with our beautiful girl who's completed us and given our children the one gift that's been on birthday and Xmas lists for years … but thankfully due to my own stubbornness and some may say being overly picky, we waited until we found the right breeder and boy we certainly did just that … so Jess thank you again from the bottom of our hearts …. here's some photos of our gorgeous girl …
Roxy – Cavapoo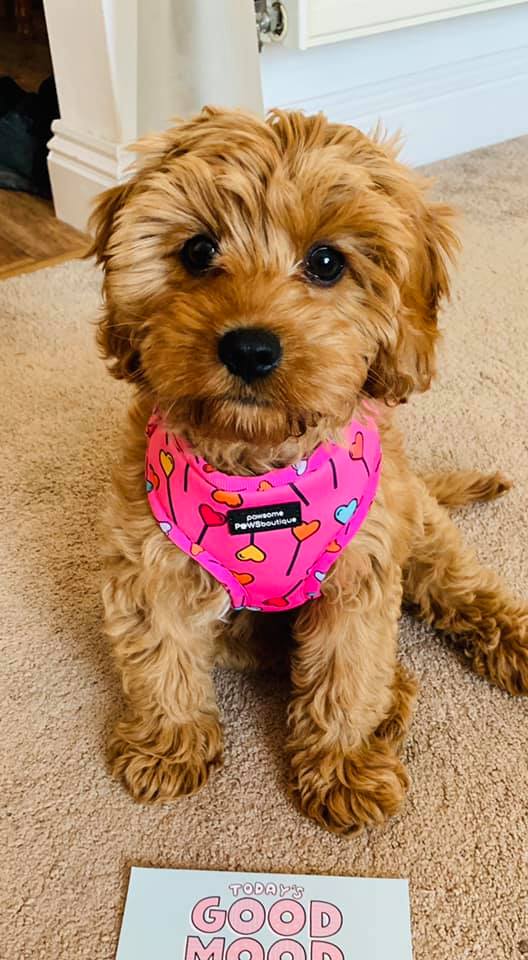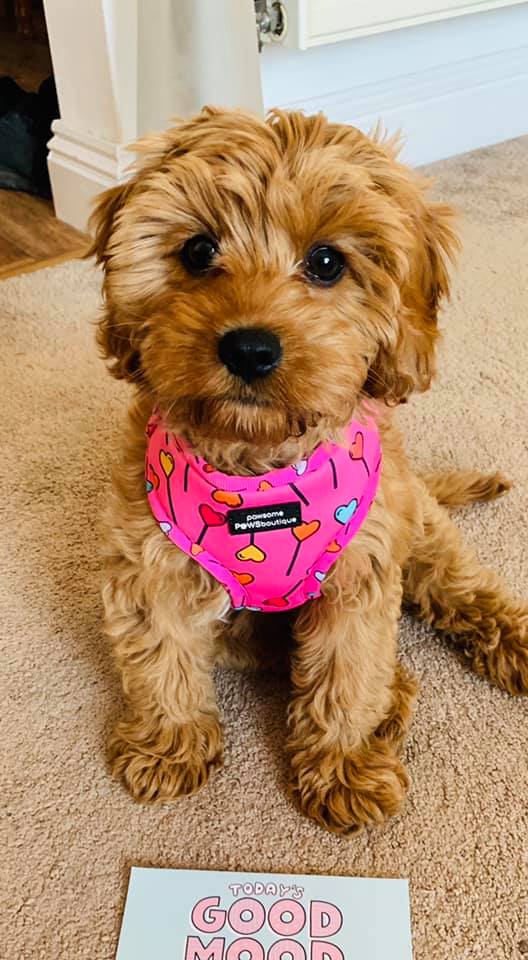 Whilst searching for a new addition to our family we were extremely impressed with Henley Cavapoo & Maltipoos website.. the in-depth detail into their work ethics, and not to mention the fabulous photos of previous litters as well as the feed back and reviews from very happy families, we could only hope we would be in the same position one day.
And here we are!!!
The fact it meant a waiting list did not put us off.. it actually made our decision easier, as it showed that they take the process of rehoming very seriously… they care that their litters will be rehoused to the right family. I'm pleased to say our wait wasn't as long as we had prepared ourselves for, and we weren't disappointed at all. After receiving a message offering us a little boy we were thrilled. Date and time was set for meeting him and we were sent photos. Jess was very welcoming we didn't feel at all rushed, she was happily chatting and answered many questions, we could've stayed for ages, all pups were with mum and she was just so lovely, I could've taken her home it was obvious they were very well cared/catered for home bred dogs which was very important to us.
We were given a pup date every week until the day of collection, any questions/concerns Jess was more than happy to answer. We were given an extensive and well produced detailed puppy care pack, which even our vet was extremely impressed with..! a lovely personalised blanket, cool bag with food for 2 weeks, and a code for 'free' follow on food and discount code for another pet food to try..
We are just so thrilled with our puppy.. and keep pinching ourselves that he is actually ours.. he is perfect, clever, funny, loving, gorgeous… just amazing
Thank You
Buzz – Cavapoo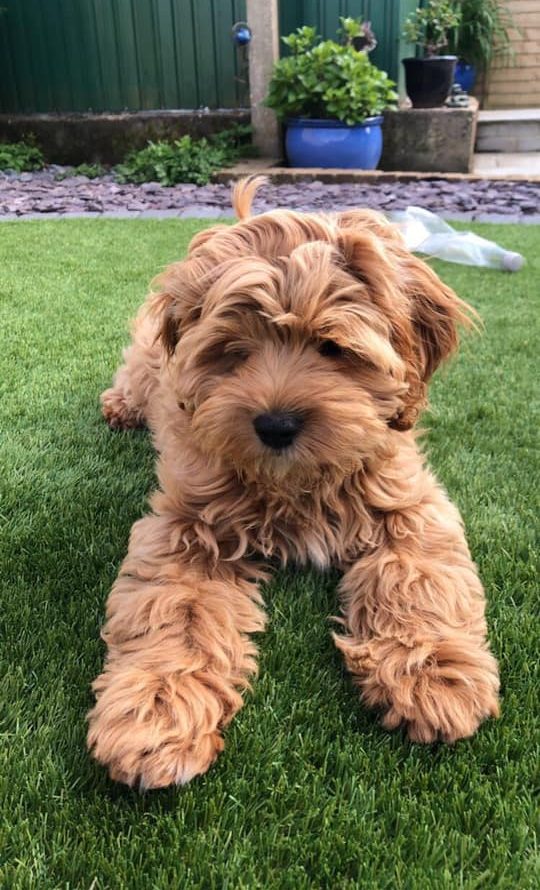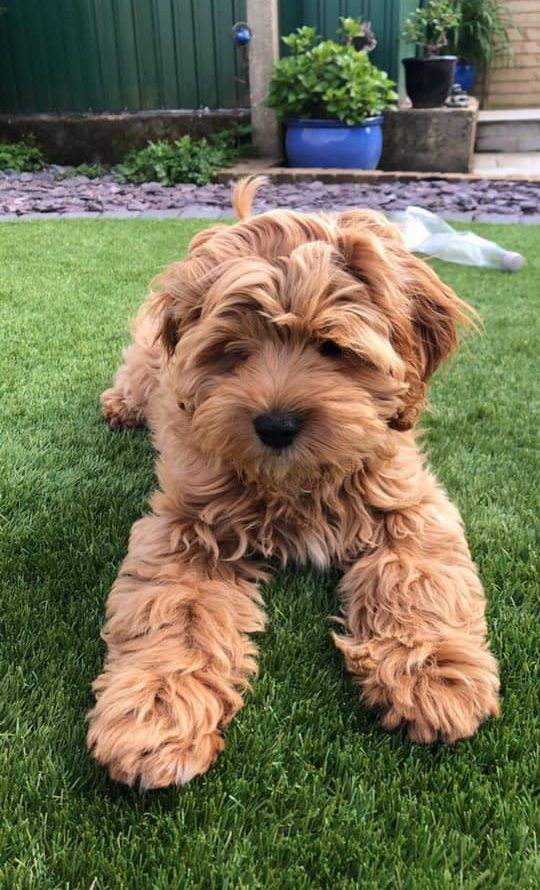 From the moment we discovered Henleypoo's and spoke to the lovely Jess, we knew that we did not want to compromise with any other breeder to help us realise our dream of adding a pup to our family and were prepared to wait patiently for this to happen. It was clear that Jess is an extremely experienced and ethical breeder, she knows everything about her pups and breeding history, but just as importantly, she wanted to learn about us too, to ensure that we were a suitable family for one of her beloved pups.
Fortunately for us, a space became unexpectedly available quite quickly and we were thrilled to be offered a viewing. The rest is history and we now have our beautiful Dexter who immediately became a loved and pampered part of our family. The viewing was such an exciting day for us, we were greeted by Jess who is so relaxed and welcoming, we were proudly introduced to mum Cassie and her litter of amazing 4 week old Cavapoochon's to choose from. It was going to be impossible, but thankfully, Dexter strutted up and chose us, it was as simple as that.
Jess, kept us up to date with Dexter's progress on a weekly basis. We eagerly awaited details and a beautiful photograph every Sunday evening. After another 4 weeks, the day arrived to collect our little boy. Jess had given Dexter a bath, prepared a week's supply of food, a helpful puppy care pack and gone to a great deal of trouble in having a personalised blanket made with Dexter's name on it which was a lovely touch, he still sleeps with that blanket today and it remains extremely special to us all. As we left with our new boy Dexter, Jess reassured us that she was only a phone call away if we needed her or any advice.
We cannot recommend Jess and Henleypoo's highly enough, in fact we have already expressed an interest in a little brother for Dexter and hope that Jess can make this a reality for us in the near future. Thank you Jess, for bringing us Dexter, he makes every day a delight!
Loraine, Bob & Dexter x
Dexter – Cavapoochon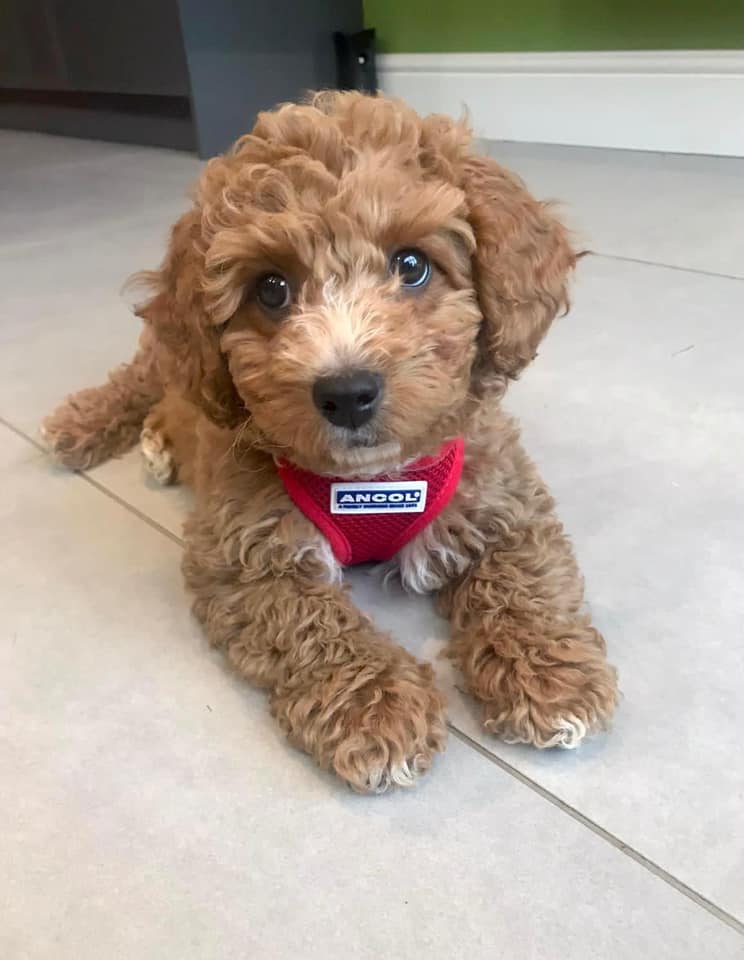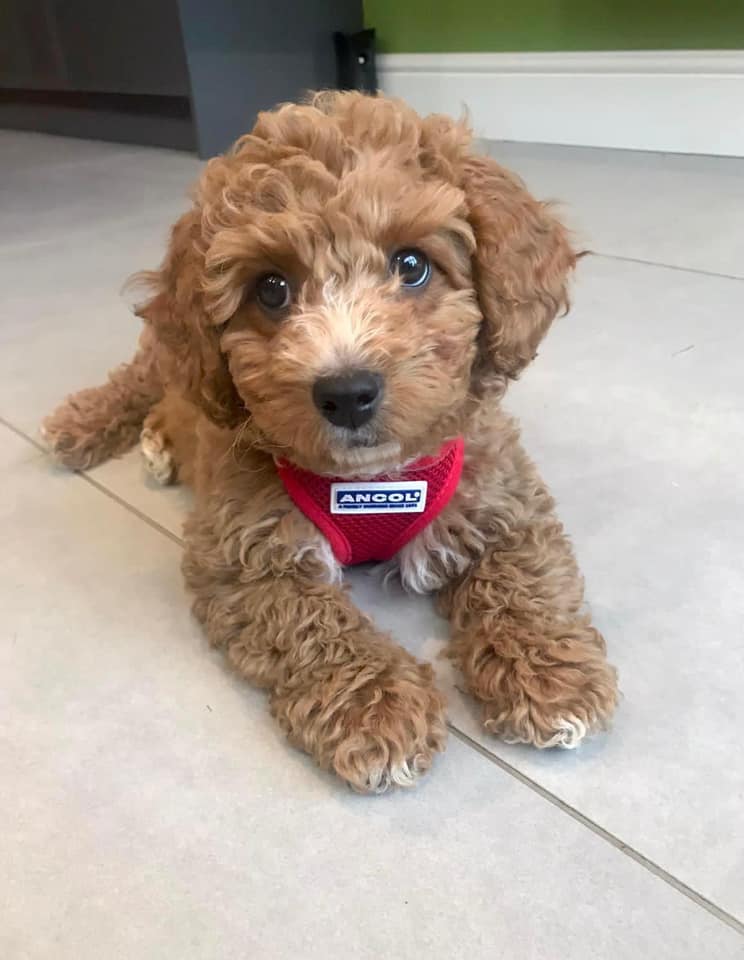 Henleypoos are simply amazing!
From the very first point of contact we knew they were right for us. The health and wellbeing of their pups comes first and they do their best to make sure they all go to loving and caring forever homes.
We were so excited to be added to their waiting list and we didn't have much of a wait until we received a lovely message to say a litter had been born with a beautiful boy for us. A few weeks later we were invited to meet our beautiful 4 week old Cooper. He was adorable and mum looked so healthy and such a lovely pet. We fell in love instantly. We counted down the days for the next 4 weeks to bring our boy home.
On the day of collection Jess was so helpful and gave us a booklet containing everything we needed to know from feeding to grooming and everything in between. My endless questions were never too much for Jess, she really knows her stuff! He came home with a blanket and toy which had been in his litter so had familiar smells for him, with his name embroided too, such a lovely touch.
Cooper is almost 16 weeks old now and he has been an absolute dream since we bought him home. He is the most beautiful colour with the best personality. He is so clever and gets compliments everywhere we go! He loves to meet knew people and gets lots of cuddles!
I love that alot of Henleypoo pups have instagram accounts so we can all see our pups growing up.
We cannot thank Henleypoos enough for choosing us to give one of their special pups a loving home. Cooper has completed our family and my 2 daughters adore him. I would recommend Henleypoos to anyone, their pups are definitely worth any wait. We truly believe that Cooper got the very best start in life by being a Henleypoo pup xxx
Cooper – Cavapoo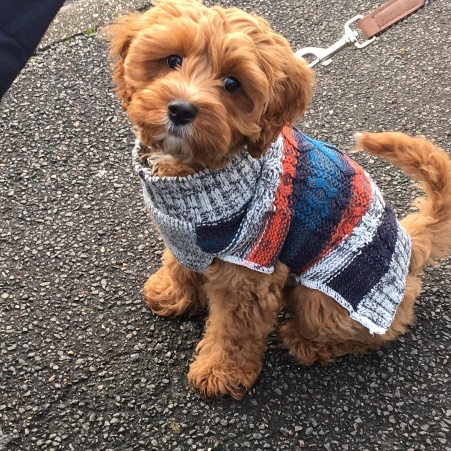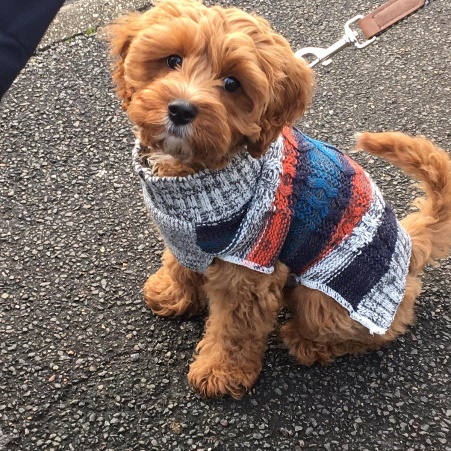 Couldn't recommend Jess and Henleypoos enough!
It became clear from my very first interaction with Jess that the puppies health and future wellbeing were of utmost importance to her. This was reinforced on meeting Jess and our gorgeous cavapoo Luna with her siblings and parents at her home. From the very start of the process Jess was very professional and informative.
We had regular photo updates until the day came that we took Luna home.
On arriving to pick her up we were given a gorgeous personalised blanket and tag blanket which smelt of Luna's mum, puppy food and all of the documentation detailing health checks, vaccinations etc. Luna has been a joy since day 1 – confident around people, other dogs and easy to train. I credit this to her first 2 months being well cared for in a loving environment.
if you are considering welcoming a cavapoo or maltipoo into your family then I suggest you get in touch with Jess – you won't regret it
Luna – Cavapoo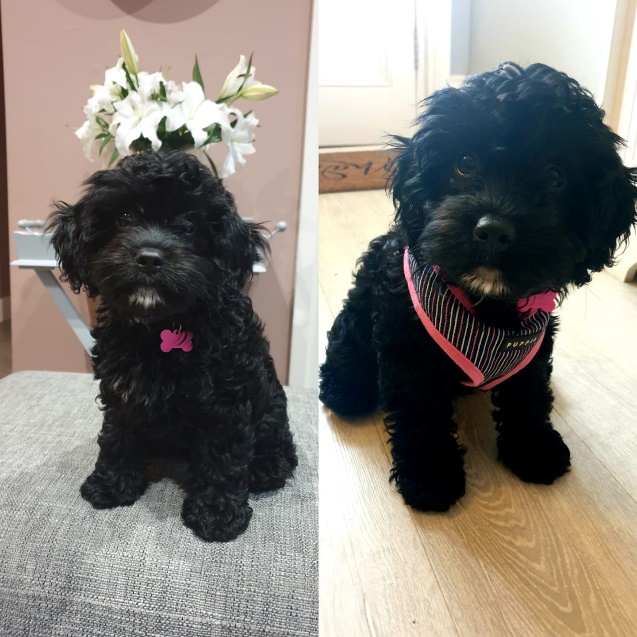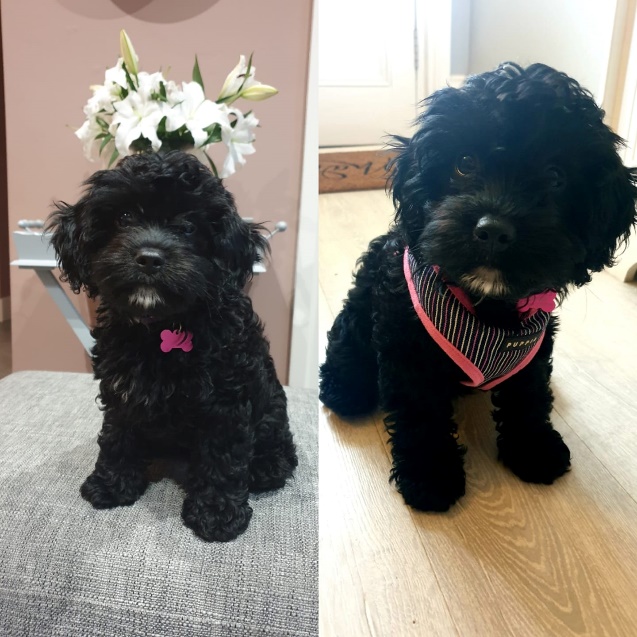 I think the best way to reflect the great experience we had with Henleypoos is the fact we have recently got our second Henleypoo pup!! Two and a half years ago we collected our first Maltipoo called Betsy and a few weeks ago we collected our second fur baby, Poppy (another maltipoo!).
Throughout both of our experiences, Michele and Jess have been amazing – providing gorgeous updates of the puppies before collection and always on hand to answer any questions (before collection and ever since).
All puppies are looked after to an amazing standard, and are super happy, healthy pups. Pups are fully vet checked, micro chipped and are sent to their new homes with a great puppy welcome pack full of useful advice – along with some gorgeous toys and a personalised blanket.
Our two HenleyPoos have added so much to our lives and are extremely fun, lively and loving. We would certainly recommend Henleypoos and might even have to add another fur baby to the family in the future!
Betsy and Poppy – Maltipoos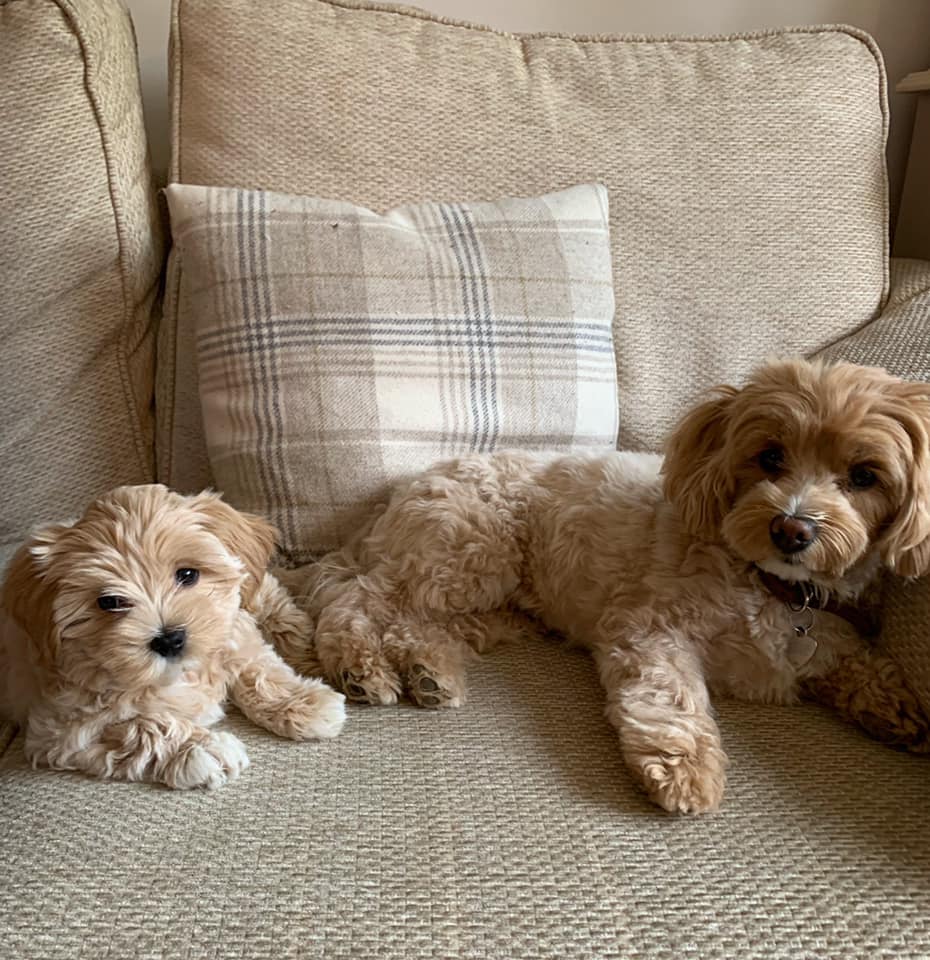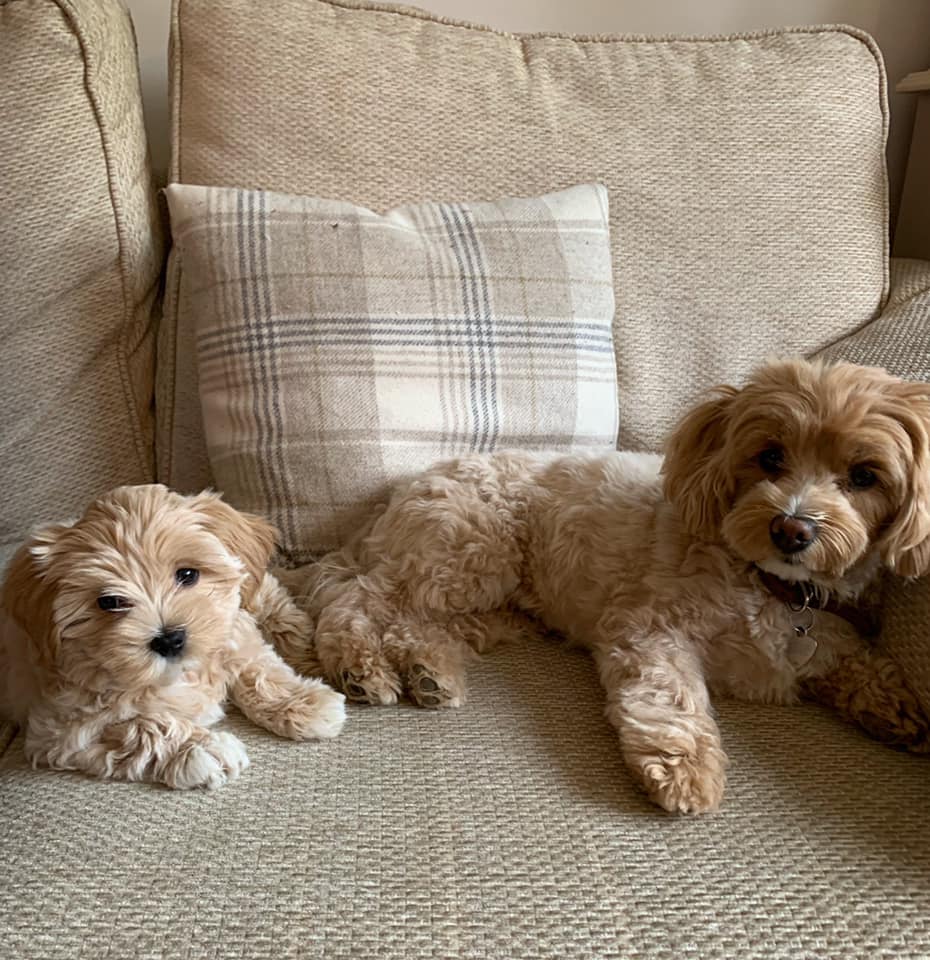 My husband and I cannot recommend Henley Cavapoos & Maltipoos highly enough!!
I got in contact with Jess at Henleypoos over a year ago. She made a point to get to know my husband and I and make sure that we would make a perfect forever home for one of her beautiful fur babies! Throughout the whole process she was professional, helpful and honest, which really gave us a piece of mind. We knew that Henleypoos were ethical and really cared for their fur babies so we waited for them to have a pup available for us. We originally thought we wanted a Maltipoo pup but when Jess said that they had a Cavapoo litter I could not resist getting more information and god, I'm glad I did!!!
We first met Moseby when he was about 4 and a half weeks old, and we brought him home on 25th August and he has been an absolute dream! He is 10 weeks old now- he toilets outside, sleeps through the night, eats really well, plays fetch and knows how to sit, lay down and give paw. His temperament and social skills are second to none. He is perfect, we honestly could not have asked for a better fur baby! When he came home, he was microchipped, he came home with food, vouchers for more food, LOADS of information & health certificates for both parents and even came home with a blanket and small toy (with his name on) which smells like his mum and siblings. Henleypoos really think of everything!
If you're thinking of getting a Henleypoo fur baby, get yourself on the waiting list! And if it's not open yet, wait for them!! I cannot tell you how impressed my husband and I have been with Jess, the service at Henleypoos and how incredible our new puppy is.
Thank you Jess, for making our little family complete!
You can follow Moseby's adventures on IG: @moseby.thecavapoo
Moseby – Cavapoo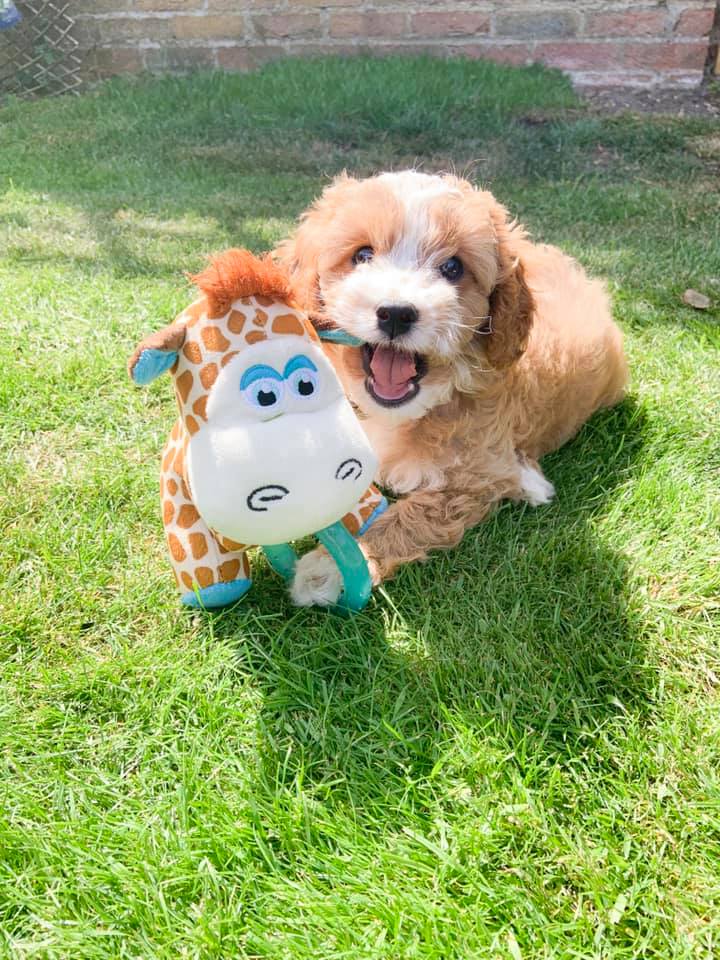 Rita and Tom – Hunny – Cavapoo
I happened upon Henleypoos website and after reading all the information and reviews I knew I had found a gem. And how right I was Jess is the most amazing breeder professional kind caring helpful you name it nothing is too much trouble. We were lucky enough to get our beautiful Hunny Cavapoo in October 2020 she's gorgeous.
We're so lucky the information pack and personalised blanket & puppy comforter Jess did so cute and thoughtful. I can not recommend Henleypoos and Jess highly enough thank you Jess for our gorgeous Hunny and for everything x
Angela and Family – Sidney – Cavapoo
We were on a waiting list for 8 or 9 months before Jess messaged to say they had a gorgeous Cavapoo for us. Sidney was so worth the wait! I felt very reassured throughout the whole process that Henley Cavapoos and Maltipoos were absolutely the right breeders. They really care about their puppies, were happy to answer all of our questions and we are still in touch today. I would highly recommend them!
It's been 3 weeks since we brought our little Dolly home. She has been the perfect new addition to our family and that is thanks to Henleypoos!
When we found them as a breeder I knew they were what we were looking for. Completely professional, caring and ethical from the moment I first contacted them.
Dolly is a confident, loving puppy, she is sleeping well in her crate at night, eating well and going to the toilet outside. We are so thankful to Henleypoos for giving her the best possible start in life and choosing us to be her forever home. Couldn't recommend Henleypoos highly enough! Definitely worth the wait!
Dolly – Cavapoo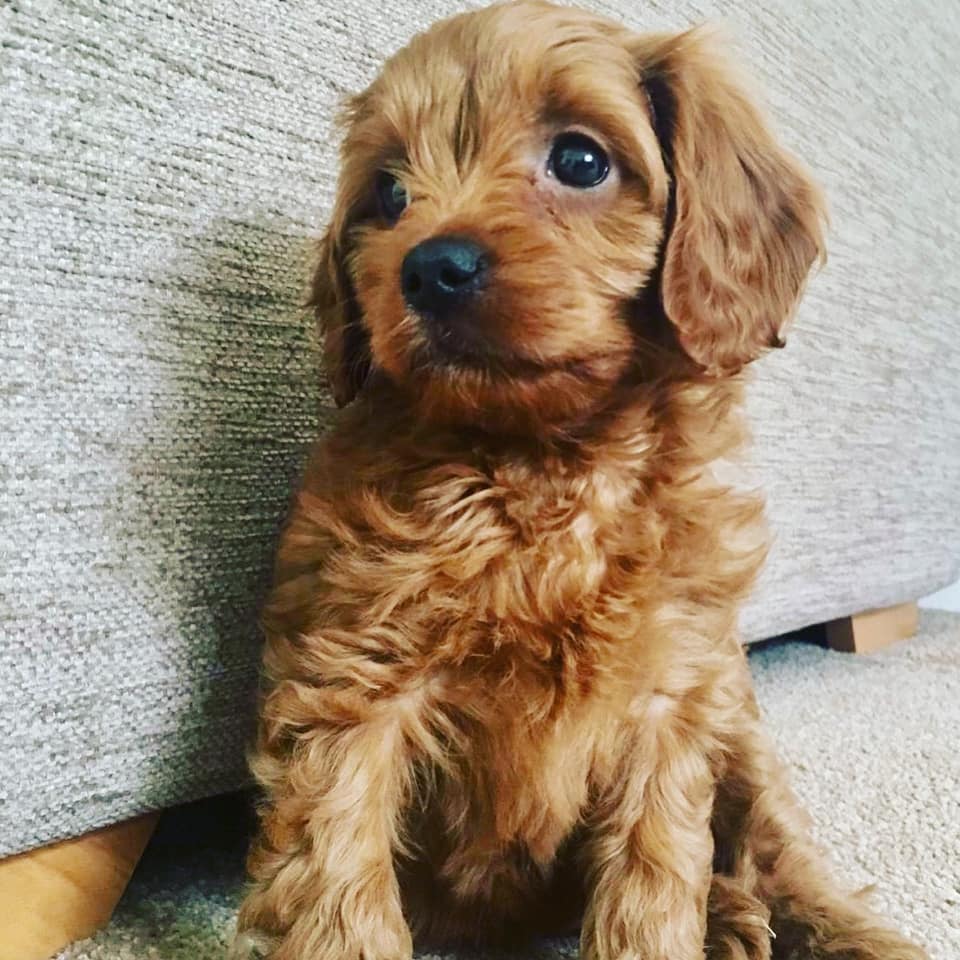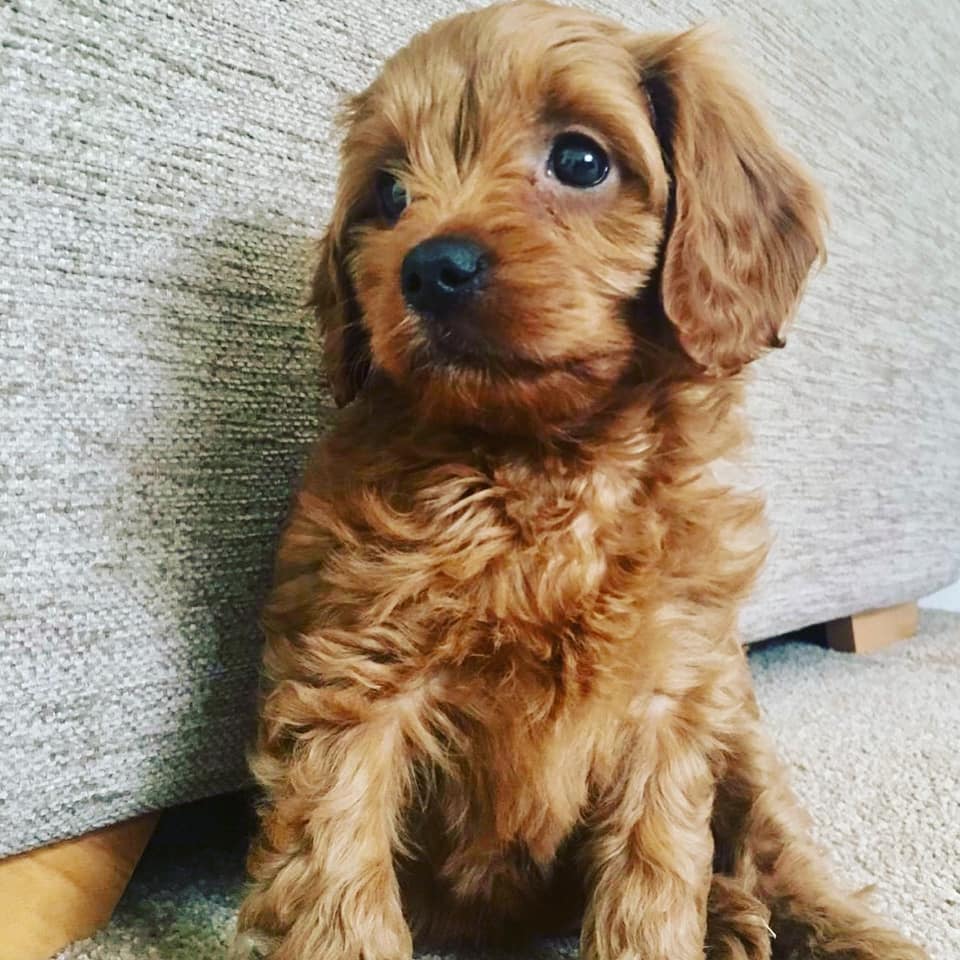 We couldn't recommend Jess enough, we bought our gorgeous Teddy home 3 weeks ago & he's settled in amazingly! Henleypoos are so professional and thorough with everything they do. Jess keeps in touch with you and is always on hand to answer any questions you have once you get your little pup home.
They genuinely care & it shows
Thankyou Henleypoos xx
Ted – Cavapoo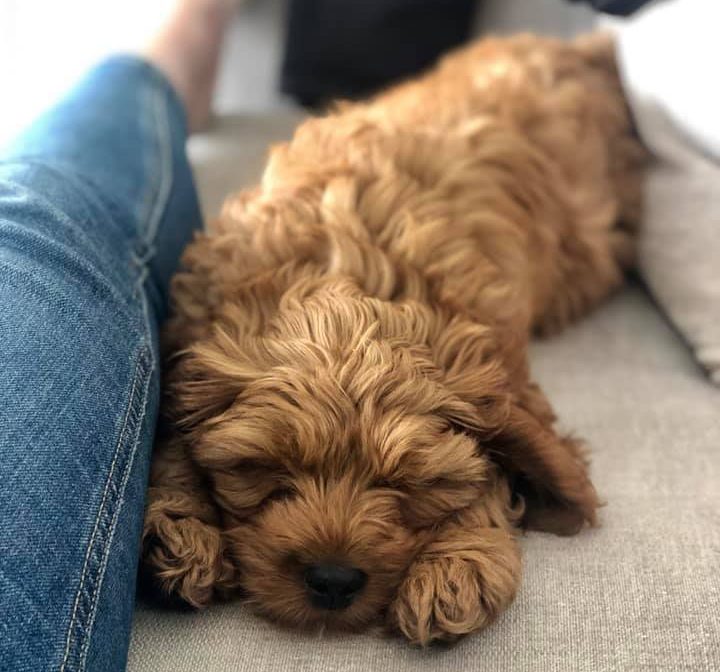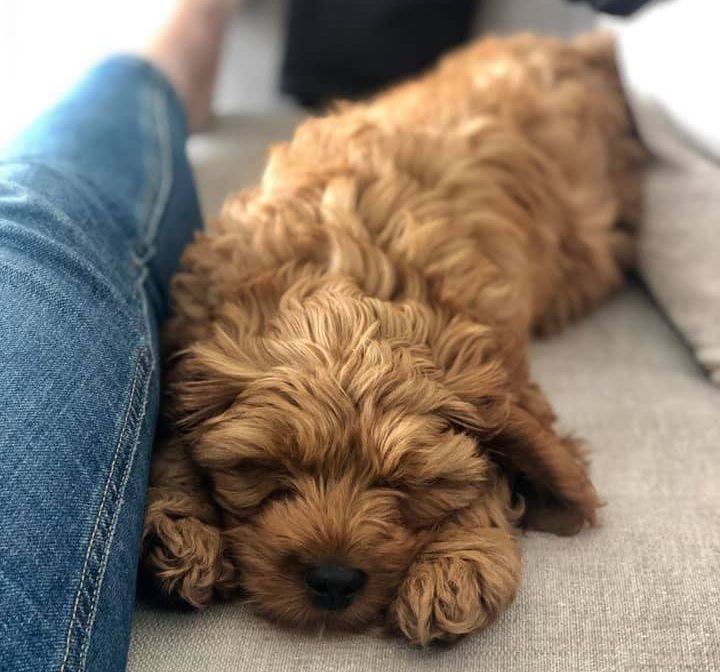 We were recommended Henleypoos by a friend and were delighted to be accepted on their waiting list earlier this year. We became owners of a gorgeous little black & tan Cavapoo, Mabel in August. As a breeder they are dedicated to their own dogs and their litters. We viewed Mabel with her mum & siblings and felt completely assured that the puppy's welfare is at the heart of everything Henleypoos do. Jess is very professional and knowledgable and gave us lots of practical advice when bringing our puppy home.
We consider them to be a first class breeder.
Mabel – Cavapoo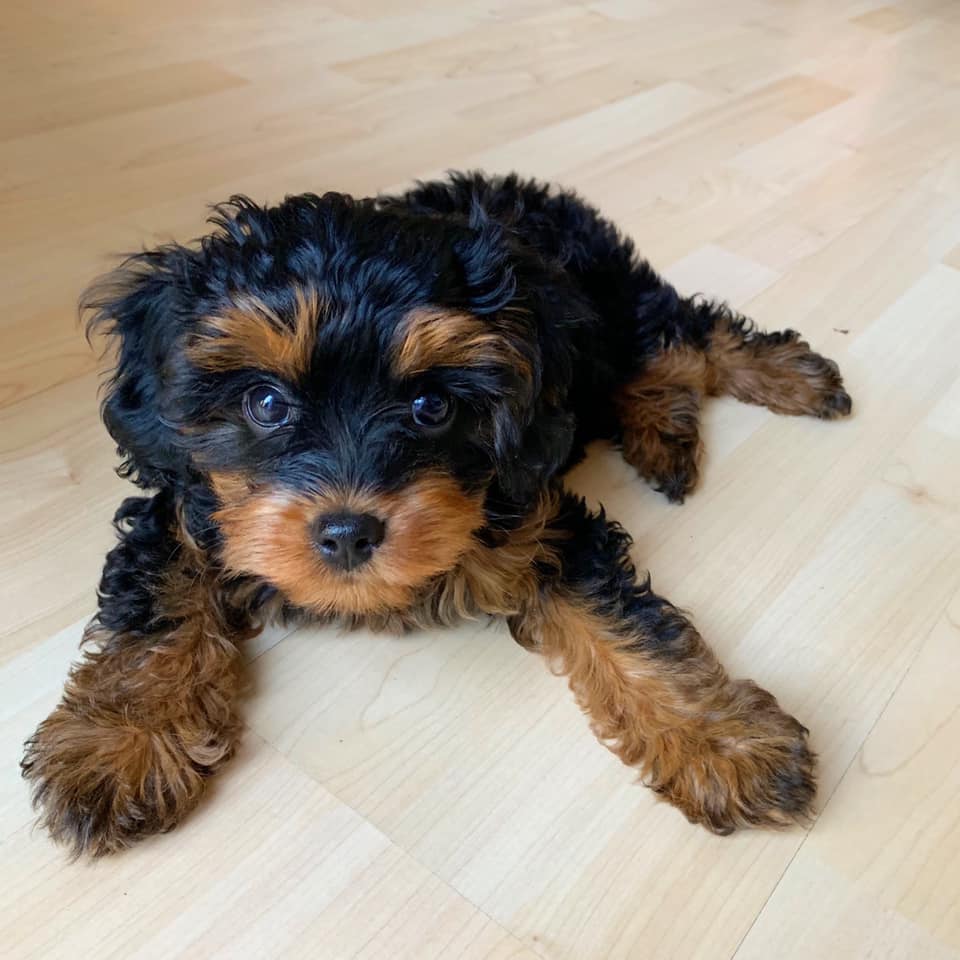 We recently picked up our now 11 week old pup cavapoo Cooper from Henley Cavapoos. From the outset Jess was absolutely amazing. When we were lucky enough to gain a place on the waiting list, Jess kept in touch with regular updates about pregnancies etc. Once our pup was born we met the pups with mum and siblings at 4 weeks old and we were shown health certificates for both mum and dad. It was obvious from the beginning that these dogs are loved and brought up by caring people.
Once selected we picked Cooper up at 8 weeks (inoculated and microchipped) we were provided with a detailed personal file on Cooper and advice on how to get him off to the best start with his new family. Cooper settled in fantastically, we have no trouble with feeding or toilet training and he has a great sleep routine. He is so loving, playful and such a joy to have around and we love him so very much. I could not rate Henley Cavapoos highly enough. I knew from my first contact that they were definitely the best breeders for us and how right I was. If you are trying to get onto the waiting list please keep holding out as you will not regret it and you will find yourself with an amazing cavapoo puppy.
Cooper – Cavapoo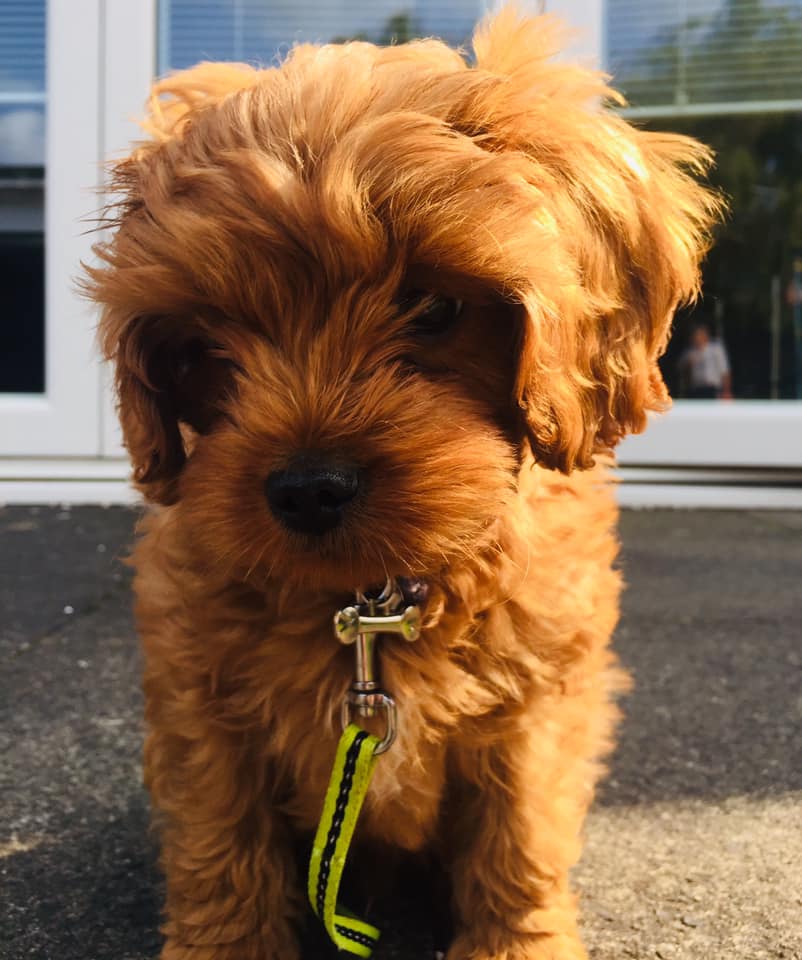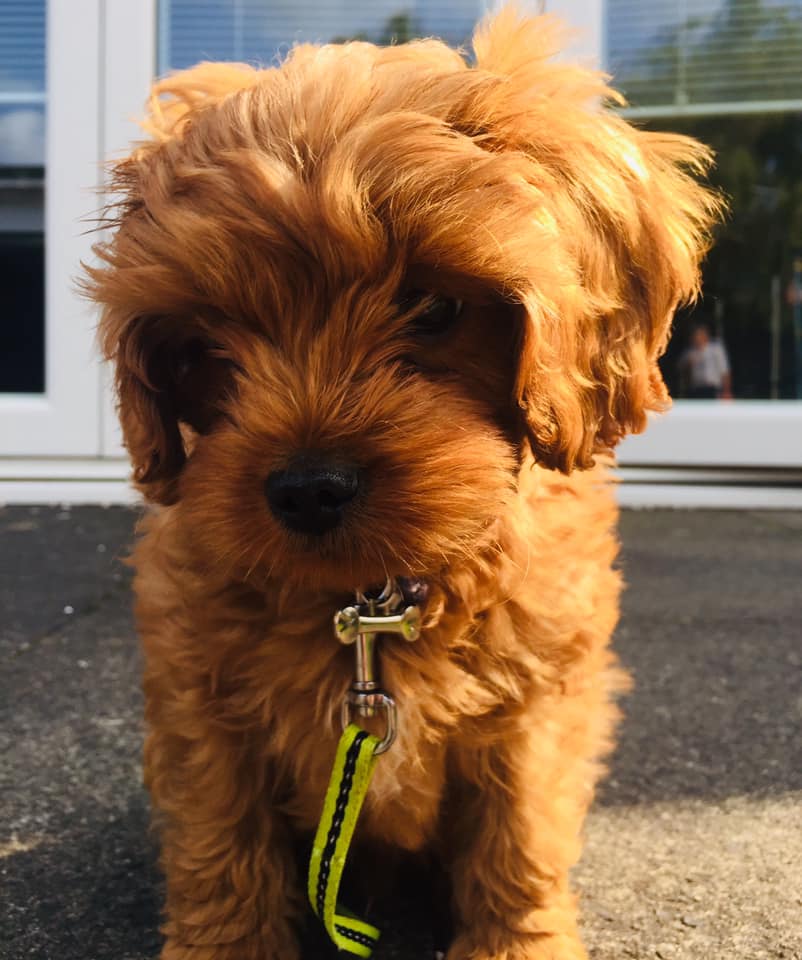 Mandy and Family – Bella – Cavapoo
When we found Henley Cavapoos and Maltipoos I knew we had found the right people to get our puppy from. Jess was amazing and was (and still is) always ready to answer questions.
Our cavapoo Bella joined us in July and she settled into the family immediately. She has the best temperament and is wonderful with the children.
I'm so glad we waited to find a genuine breeder who cares about where the puppies go and who like to keep in touch after the puppies leave for their new homes.
I would highly recommend Henley Cavapoos and Maltipoos … our beautiful Bella was definitely worth the wait x x
Traci and Family – Ellie – Cavapoo
We are so happy that we waited for little Ellie to join our family. We had a lovely feeling from our first interaction with Henley Poos and knew they were the breeder for us. They are utterly professional but equally bring up the puppies as if they are their own. They also wanted to ensure that we were the right family for one of their beloved pups! Ellie came to us as an extremely confident and loving puppy settling into our home and family quickly. Henley Poos has been amazing to deal with, answering our endless questions! Thank you for your patience Jess! I would have no hesitation at all in recommending them!!
Henleypoos was recommended to us by a friend who has one of Jess' Cavapoos and knowing how wonderful her pup was and that the pups are from fully health tested parents we were willing to wait as long as necessary.
We were so happy when we got on the waiting list and now we have our own Cavapoo. Jess was very helpful and answered all my many questions and we met our pup with his mum and the rest of the litter. We're so happy with Henley (yes we named him after the breeder ) the past 2 months have been great, he's settled in and is doing well with his training. On his first visit to the vet they said he was a very healthy pup and complimented the information pack we'd been given and that he was raw fed.
Walks take ages because we get stopped by admirers all the time but he loves all the attention. Everyone who meets him thinks he's gorgeous and we're often asked if they can take his photo.
Although it's hard it is so worth waiting for a pup from a good breeder who genuinely cares about their dogs and who the pups go to.
Thank you Henleypoos and good luck to anyone hoping to join the waiting list. X
Henley – Cavapoo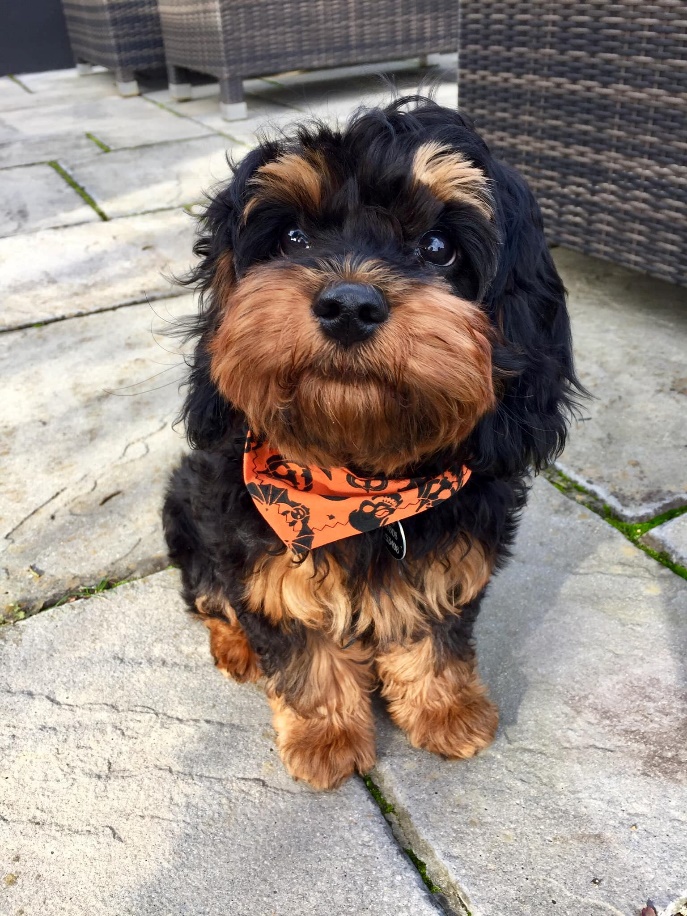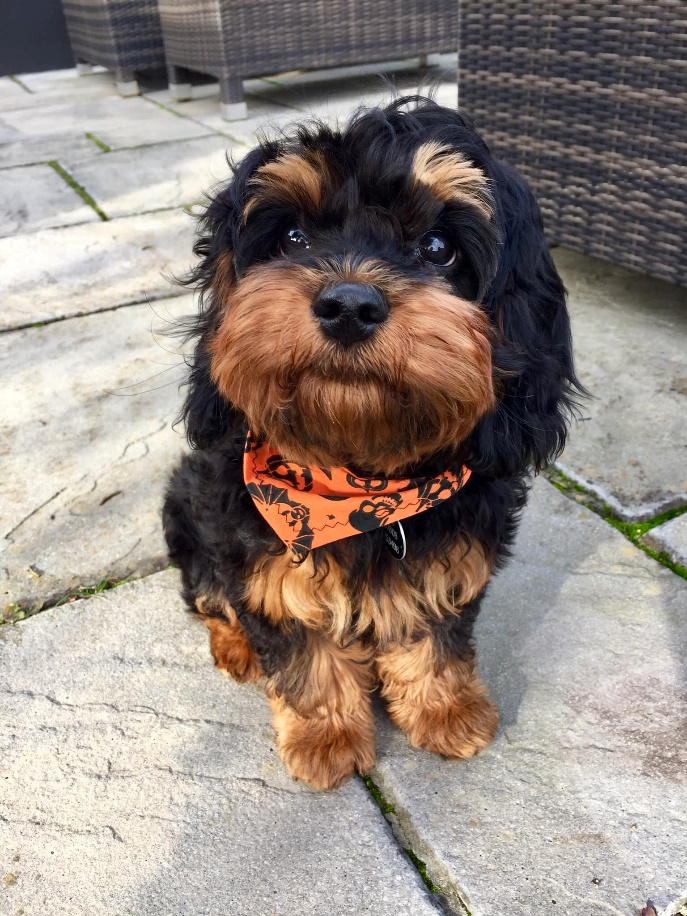 We can't recommend Henley Cavapoos highly enough! Jess is amazing, caring, knowledgeable and understanding. When we decided to get a cavapoo finding a reliable and caring breeder was paramount. We own a rescue ragdoll cat who was rescued from a kitten churning breeder so we wanted to make sure our breeder was really interested in the wellbeing of the puppies more than just a money making business.
The wait was worth it, the timing wasn't possible the 1st 2 times but 3rd time lucky and now we have our lovely Kiko. He is 14 weeks already and is a bundle of joy and best friends with Morgan the cat! Thank you Jess!
Kiko – Cavapoo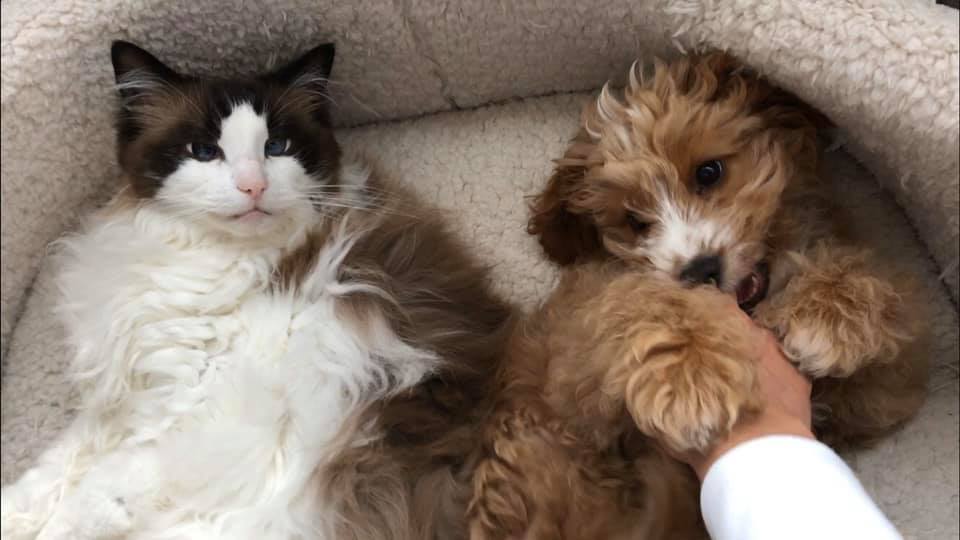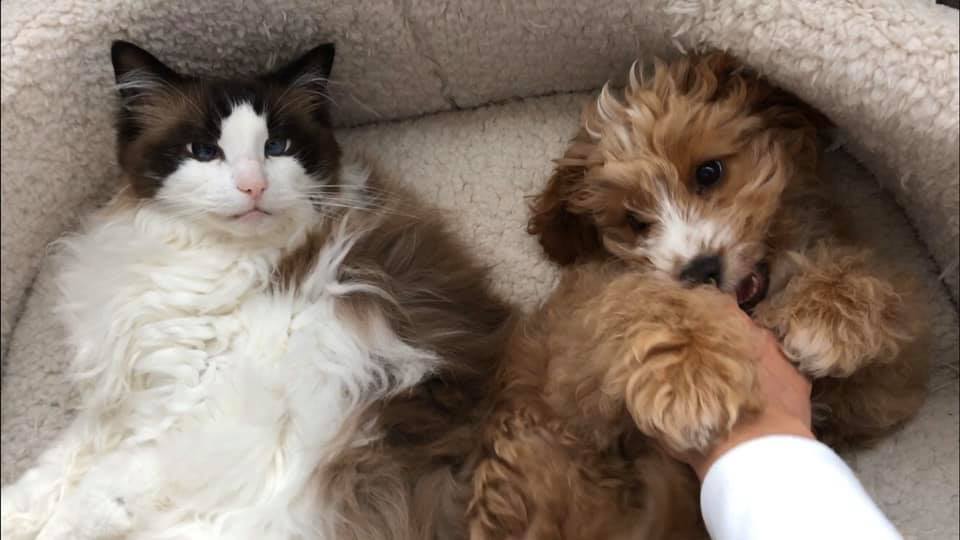 We had been looking for a fur baby to join our family for sometime. When I come across Henley's and had the first message with Jess I instantly liked her. She was very warm and friendly and told me how possibly getting a pup with them would work. When Jess messaged to say the waiting list was open I jumped at the chance of adding one of her pups to our family. When meeting the pups it was extremely hard decision as they were all gorgeous. Once we had decided on our little Piper, Jess kept us informed with what was happening and weekly photo updates. On pick up day Jess explained again everything we needed to know.
We have had Piper at home with us for about 6 weeks now and she is the most funny, pretty, lovable character and everyone she meets adores her. We now have to leave with extra time if going out as everyone stops and wants to talk to her. Jess gives all her pups the best first 8 weeks of their lives. They are living in her home with her and you can see how she interacts with them and their mummy, how much love she has for them. I've already been recommending Jess as a breeder to my friends that now want a Piper of their own.
Piper – Cavapoo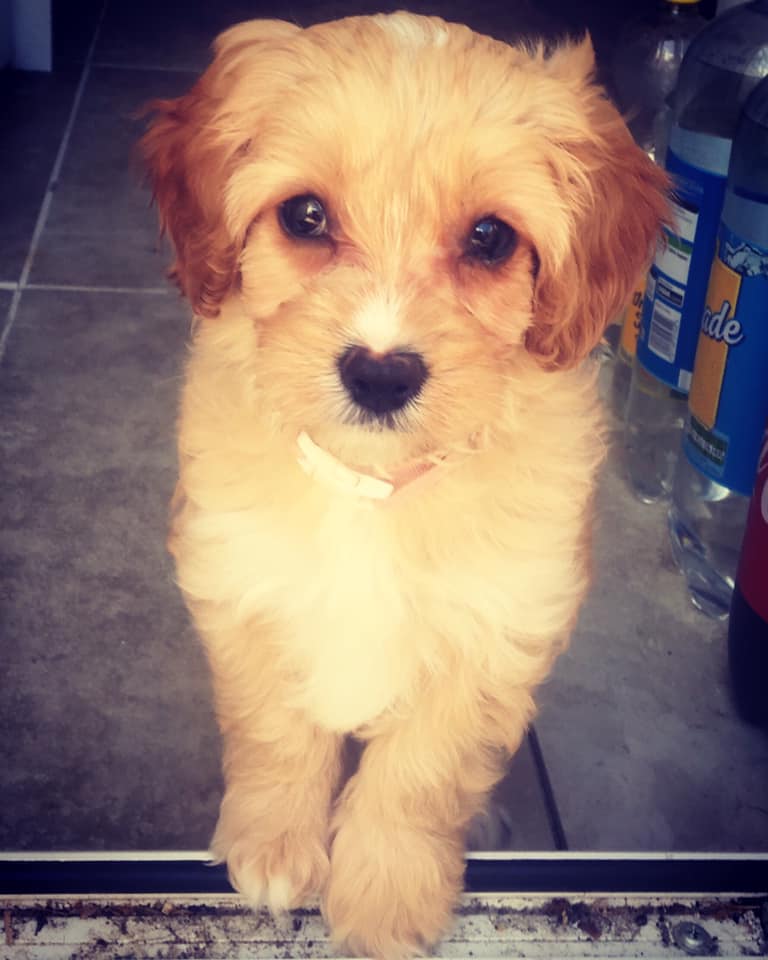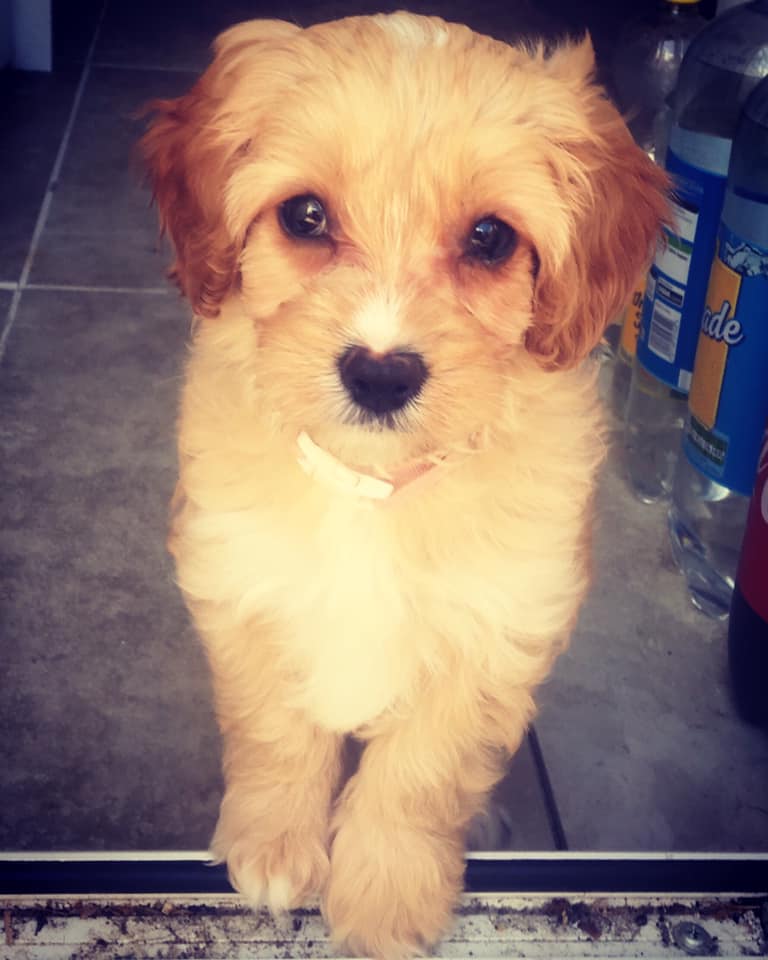 We've had Lexi with us since June this year and I can honestly say we've had the very best 4 months. It's difficult to even remember how life was before she joined our family. She is the most beautiful, friendly, playful puppy. Admired and loved by all that meet her. It's impossible to get anywhere with her in tow, I'm constantly being stopped by all her fans! She's been a happy, healthy pup from her very first day with us. She nailed sleeping through the night and toilet training almost immediately!
Henleypoos are wonderful caring breeders, who genuinely want the best for their pups. Jess has been fantastic to deal with and was always happy (and still is) to answer any questions we had. I would be more than happy to recommend Henleypoos.
Lexi – Cavapoochon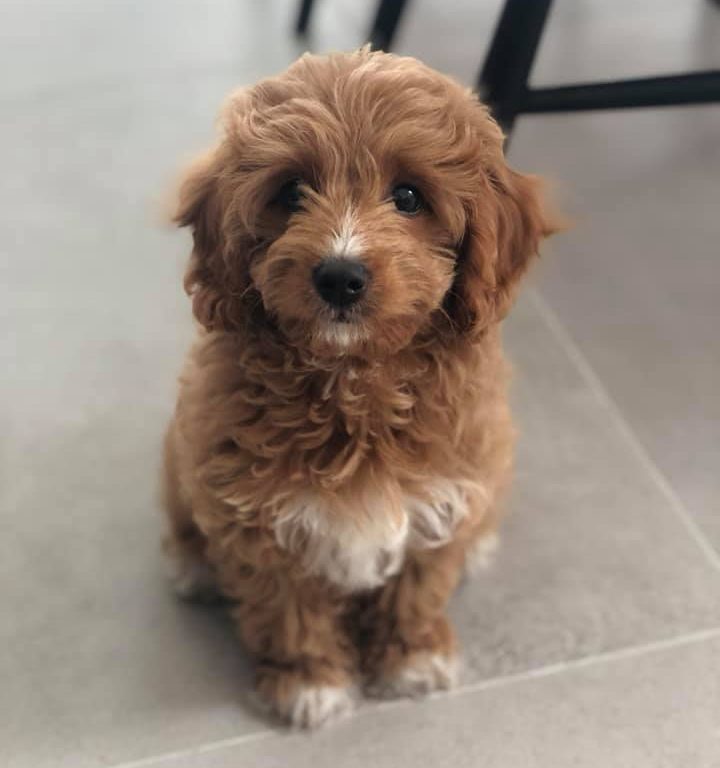 Jade and Brad – Ralph – Cavapoo
When you know, you just know. That was the exact feeling we had when we came across Henleypoos and our instincts didn't disappoint us. Jess is an amazing breeder, very knowledgable, caring and helpful. Our pup Ralphie is THE most wonderful pet, so healthy, friendly, playful and loving and it's all thanks to him having the best start in life. He was very much worth the wait! Thank you Henleypoos xx
Vanessa and Family – Geebee – Cavapoochon
After much research, Henleypoos proved without doubt to be the best breeder to buy our first dog 'Geebee'.
Geebee is everything we could have ever wished for and much more! Apart from being beautiful, she is loving, playful and even has a sense of humour! We are all besotted with her! She loves being out and about with the family, though it takes forever to get from A to B as she meets so many admirers along the way – everyone wants 'a Geebee'!
She is fantastic with my daughter and her friends who have learning disabilities and loves being taught new tricks. Henleypoos were helpful from day one, offering advice whenever we needed it. The wait seemed like forever, but it was worth every minute. Thank you Henleypoos!
We got our gorgeous boy 4 weeks ago now. And he is the best pup ever. Jess is so helpful throughout the whole process with all our questions and weekly updates of our pup. If you are looking for a Cavapoo or Maltipoo I couldn't recommend someone more.
George, Ali and Bourbon
Bourbon – Cavapoo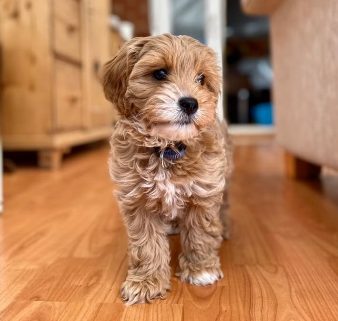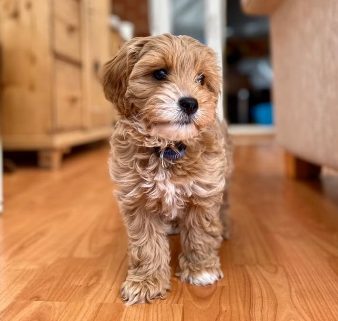 I had wanted a dog since I was five years old. When the right moment came for me to be able to offer all the love to a little pup I started my search for a reputable and ethical breeder. Upon first look at the Henley Poos website, I knew that it was where I wanted my puppy to come from and all my searches and journey to finding my pooch kept leading back to them. From first contact, Jess was so professional. She made me feel comfortable, reassured me and answered all my questions about being a first time dog owner.
I waited a long time to get my cavapoo, but it was well worth the wait. Jess clearly cares deeply for her dogs and the fact that she chooses the homes for her puppies with due diligence really warmed my heart. I feel incredibly lucky to have been chosen to provide a home to a Henley Poo – I wouldn't choose anyone else. Jess and I still keep in touch and she is always on hand to offer invaluable advice and support and so still very much apart of little Koni's life. Thank you Jess and all at Henley Poos.
Koni – Cavapoo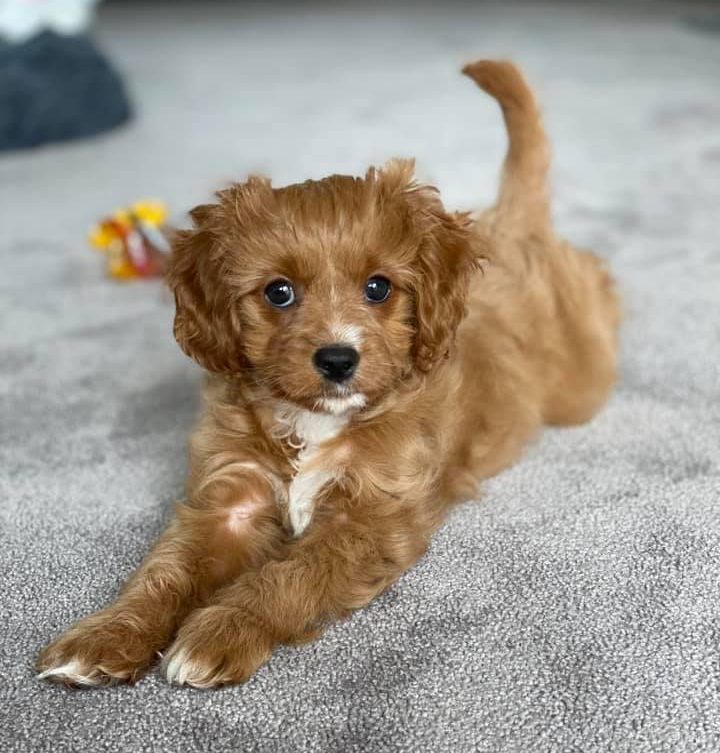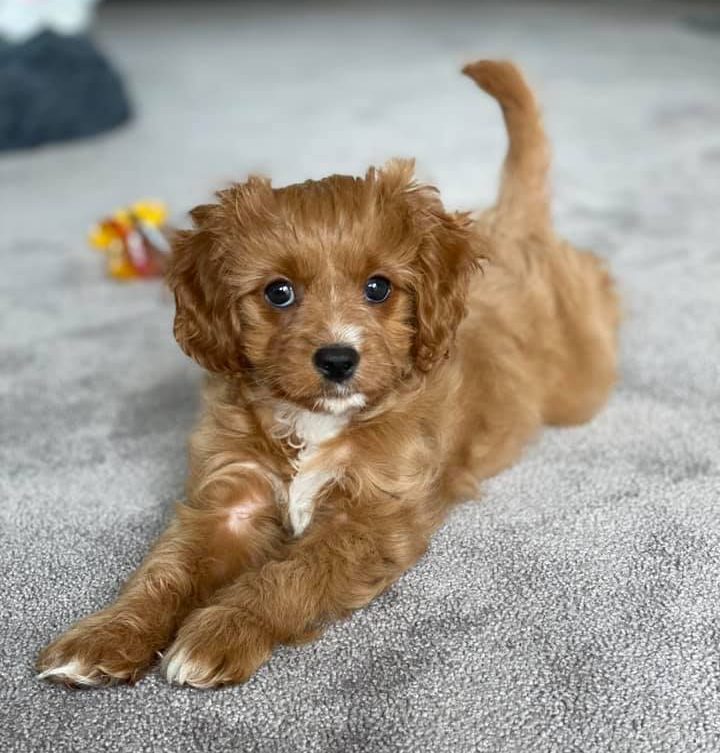 We got Bertie from Henley Cavapoos & Maltipoos on Sunday. The whole process was amazing and Michele was and continues to be extremely helpful, is very knowledgeable and clearly loves what she does!
Bertie has been an absolute dream and is really finding his feet in our home. He has quickly become king of the castle and is adored by all of us! Would highly recommend Henley Cavapoos & Maltipoos to anyone!
Bertie – Maltipoo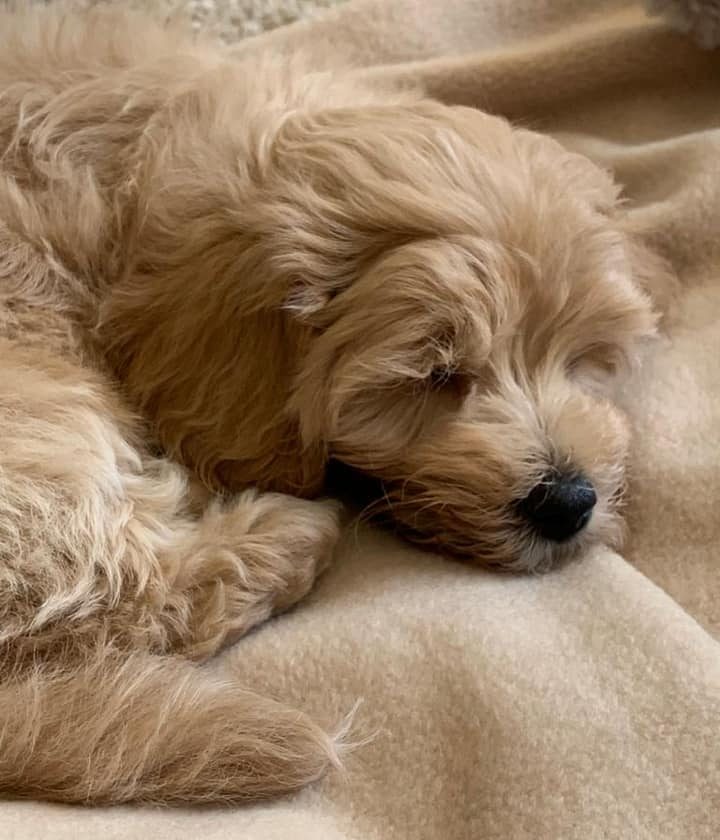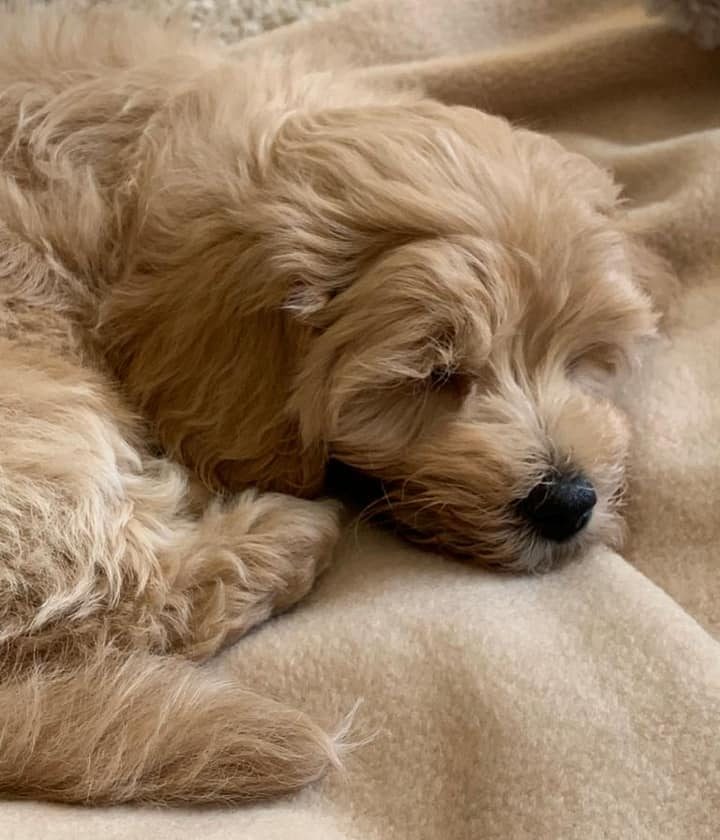 Nicola and Family – Bertie – Cavapoo
Our gorgeous Bertie was raised by Jess. He is a confident, loving puppy who is happy and healthy. I would highly recommend Henley Poos, we received a fantastic information pack containing all the information we needed to keep him in great shape and he adapted so well in to our family with existing older pets.
After months of researching what type of dog we wanted, the next and most important step for us was to find an ethical breeder that really cared for their dogs and their puppies and that's when we came across Jess at Henleypoos. Having spoken to a couple of other breeders, I automatically had a good vibe from Jess and knew she was the breeder we'd been waiting for. She is professional, knowledgeable and genuinely cares so much about her dogs and the puppies she breeds. Having never had a puppy myself before, she was more than happy to provide guidance and answer all of our questions. The day we went to meet our puppy (Walter) is a day we'll never forget.
Throughout the whole process we received regular updates which was the highlight of our weeks and the care and love Jess has for these puppies is evident in the confident, happy dog we have today. We get stopped so often by people to ask about our lovely Walter and receive a lot of compliments about his good behaviour – and we have Jess to thank for this! We are so tempted to get Walter another little brother or sister…! But seriously if you are looking for a cavapoo that is healthy, happy and from an ethical and very professional breeder, look no further!
Walter – Cavapoo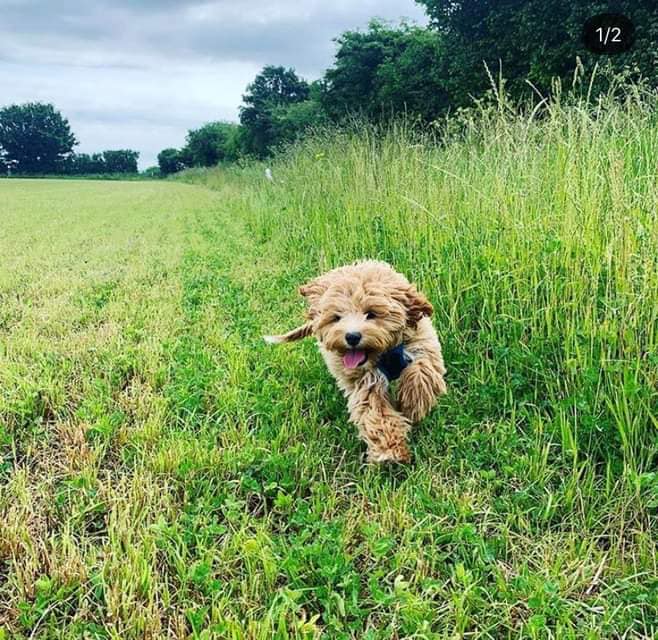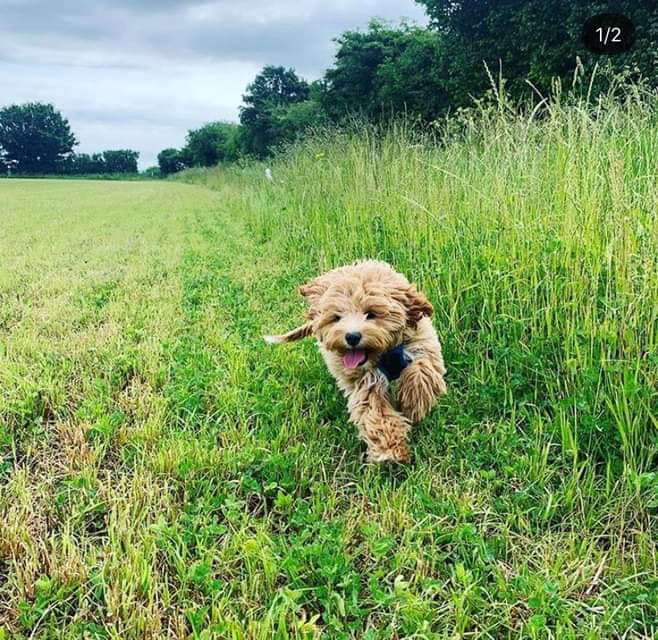 Heather & Yohji – Cavapoo
Jess and her team have the most amazing attention to dogs and how to breed honourably and honestly, in a fun exciting way. I borrowed a doggy from a friend to learn my responsibilities before signing up to her waiting list and was prepared to wait however long it took to show my commitment to her. Yohji has been the perfect new addition to my household and has been a delight to train. Jess has been there every step of the way to answer my questions and I could not be happier.
Here's the gorgeous Nellie who I was so lucky to get from Jess. After lots of research into a reputable breeder Jess stood out a mile. She answered all my questions as a first time puppy owner and has continued to support me with advice as Nellie grows. We are still in touch with Nellies siblings and they are all growing into gorgeous dogs with lovely temperaments.
Everyone I've met have said how lovely Nellie is and where have we had her from. I've given out lots of recommendations for HenleyPoos and wouldn't hesitate to get another puppy from her- I'd be very lucky. Thanks Jess for gifting me her.
Nellie – Cavapoo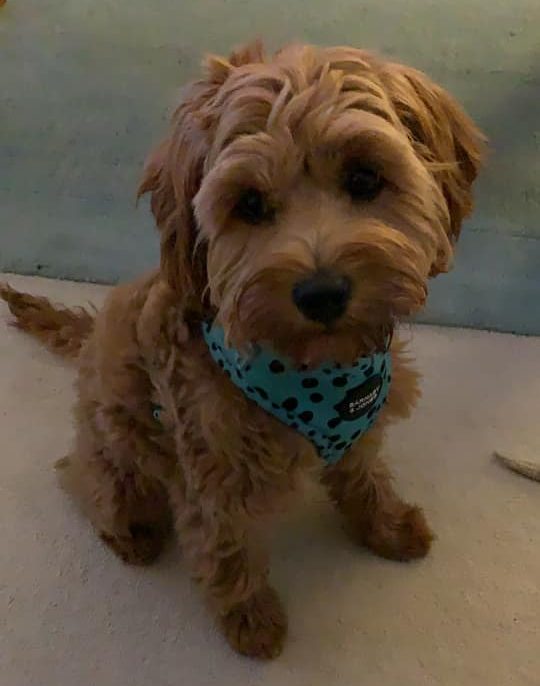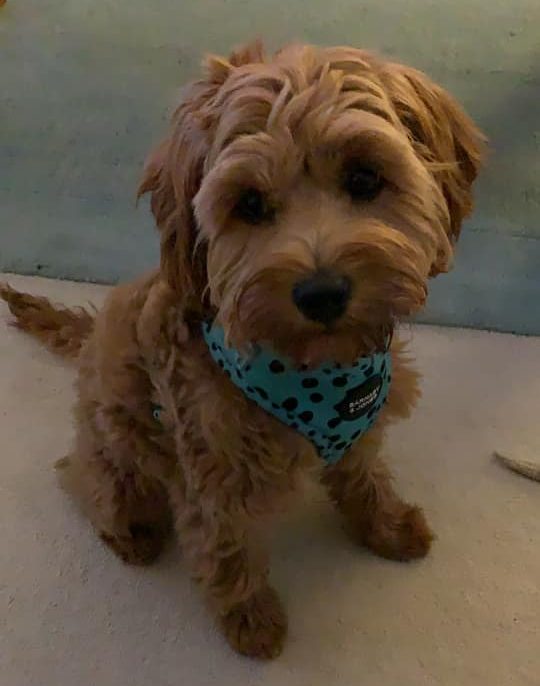 It's been nearly 6 months since we welcomed Gino into our lives and what can I say, he's absolutely amazing!
We were waiting patiently for what seemed like an eternity but boy am I glad I didn't make the mistake of purchasing from somewhere else. From the initial call from Jess, you could tell you were in safe hands, she knows everything about her pups and their history and ensures she's knows all about you too! The questions that she asks you clearly show how much care she has for her pups and their futures.
The calibre of Jess's pup are outstanding, you can see the level of care and love that is given to them from the offset. Gino makes heads turn wherever he goes and people are amazed by his personality and very mature temperament. We now have a delightful furry baby who we are so proud of and I proudly let everyone know that he is a Henleypoo! I couldn't recommend you enough!
Thank you for completing our family and of course thanks from Gino!
Gino – Cavapoo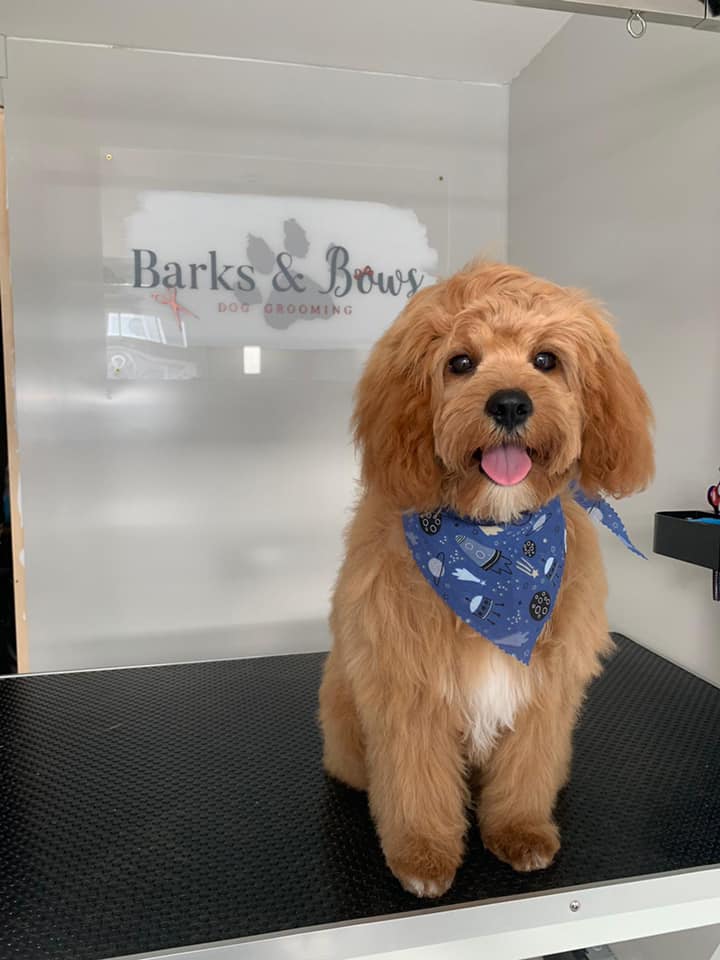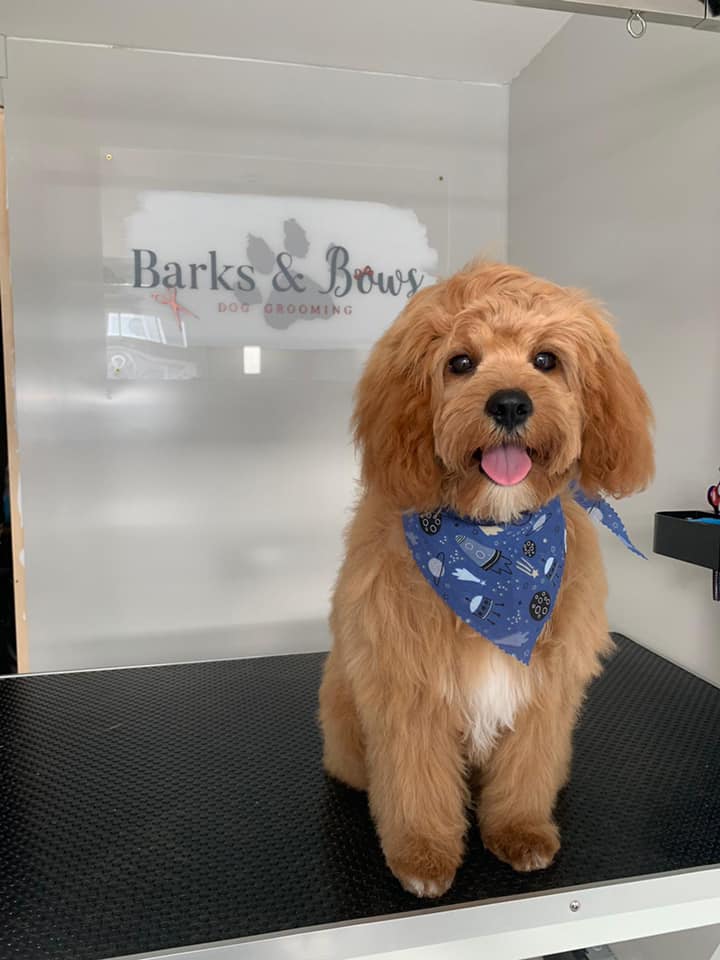 Jess is the most incredible breeder, not only a lovely person herself but her mums and litters are so well cared for! We got Penelope at 8 weeks old after lots of contact with Jess, she was so helpful at answering all the questions we had (even the silly ones) and giving us regular updates on the pups. Penelope came home so confident and well socialised already and has been a dream ever since.
I can not recommend Henley enough as such a genuine breeder! She also builds such a lovely supportive community of owners which is so special
Penelope – Cavapoo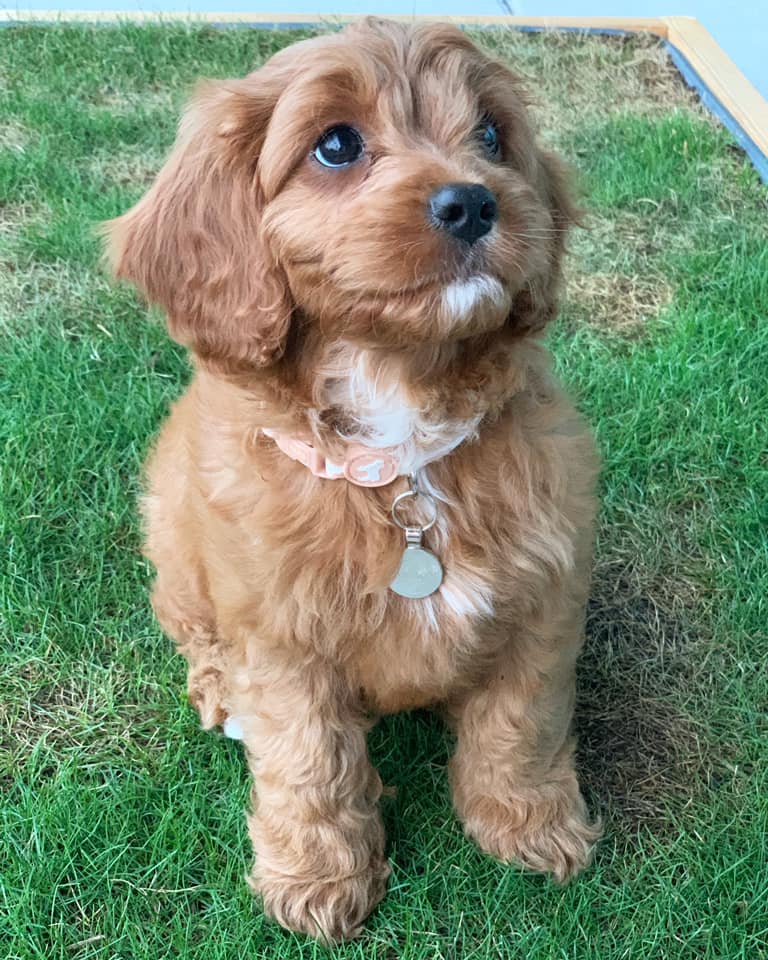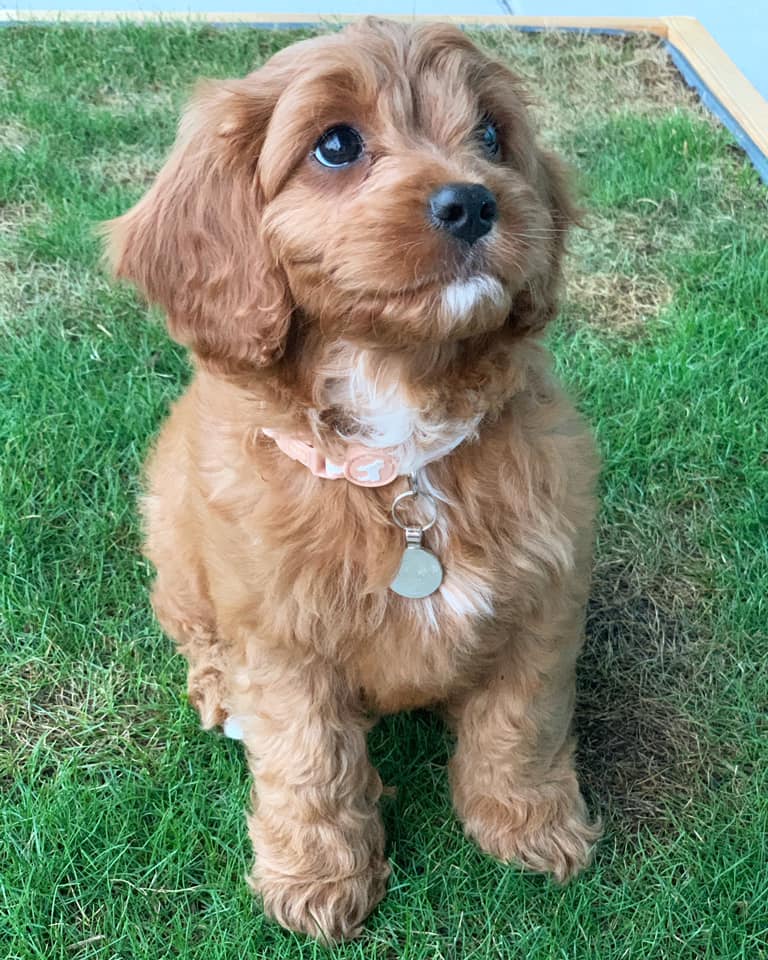 Henleypoos are just brilliant in every way!
Throughout the whole process, Jess has been at hand to answer any questions and offer advice.
We have had our gorgeous Ralph for 4 weeks now and we couldn't be happier. He has the most adorable temperament, has already learnt so much and has well and truly settled with us.
Thank you Jess
Ralph – Cavapoo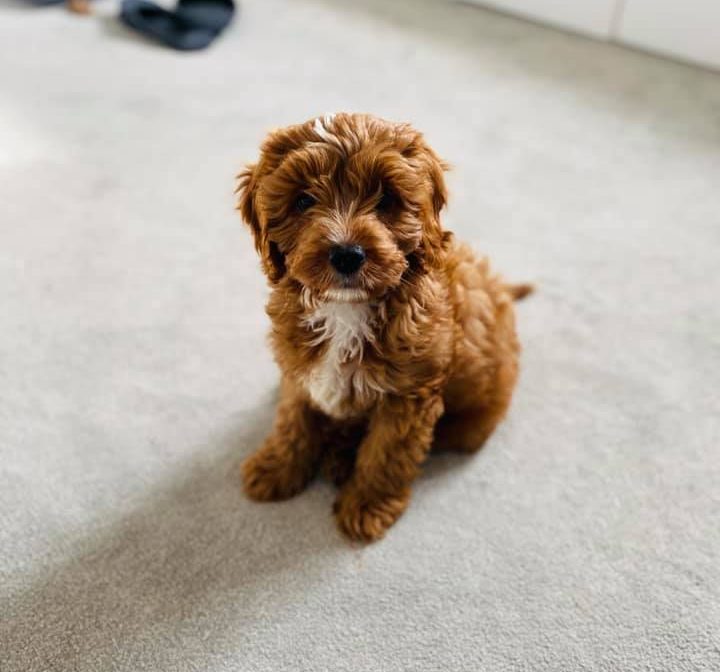 I can't recommend Jess highly enough! A reliable, caring breeder that puts her dogs first. The help and information we received before and (long!) after we picked up Clemmie has been so helpful.
After a lot of research, we were thrilled to find Jess, and even happier to welcome our happy, healthy, inquisitive pup home earlier this year. I can't speak more positively about Henleypoos!
Clemmie – Cavapoo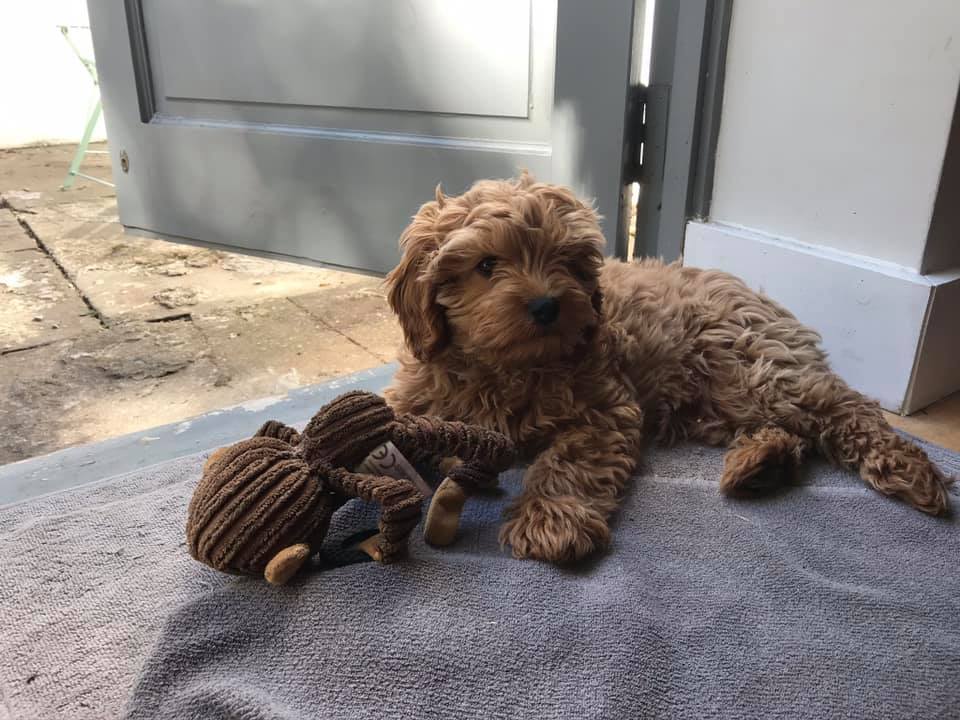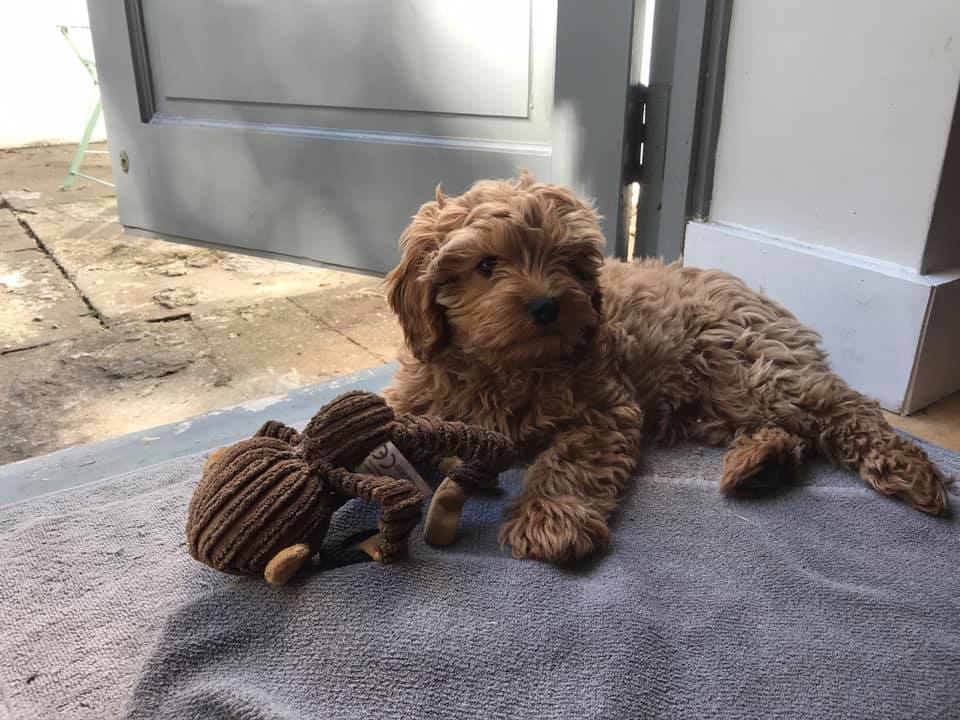 I couldn't be more complimentary about Jess and Henleypoos. Jess really cares about her puppies and their 'families to be'! I felt very very lucky to get my gorgeous Nellie from Jess.
Nellie's temperament is lovely and I am sure that is down to such a positive start with Jess. She is continually helpful and supportive and still very much in touch with all her puppy families, which speaks for itself! Caring, responsible and not to mention just the most beautiful puppies! Thank you Jess and Henlypoos x
Nellie – Cavapoo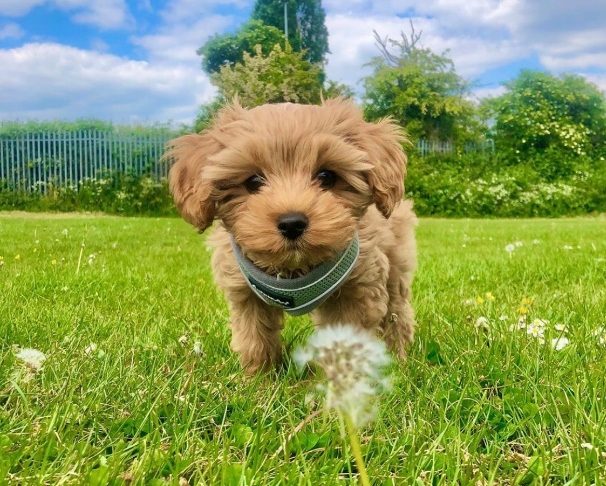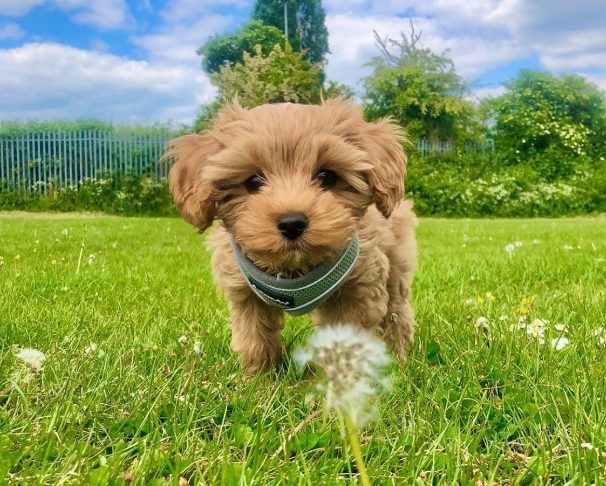 Sarah-Jayne and Family – Boris – Maltipoo
We contacted Henleys after losing our 14 year old Labrador as we wanted to have a completely different dog. We saw how professional they were from their social media and webpage. Jess was fantastic from the start! She did a thorough check on our family and we made the waiting list. The wait was definitely worth it!! Once our puppy was born Jess has a long chat with us so we could go though any questions etc. We got to meet our puppy in their happy and safe home with Jess. It is such a lovely start for a puppy!
Jess gave us weekly updates until it was time to collect Boris! From then on Henleys have been at the end of the phone for any concerns I have with feeding or training etc- it is certainly a life long commitment they make to their dogs! We are so happy that we have put ourselves on the waiting list again so Boris can have a sister!
Jess is an incredibly responsible breeder, very friendly and has provided the perfect puppy to complete our family! With such thoughtful touches, from the lovely photos and videos in your weekly 'pupdate' to the comprehensive info pack and personalised blanket you get with you puppy, she was always on hand to answer my questions and even though we couldn't visit the litter because of lockdown, we felt we had everything we needed and more to start our new life with Betsy!
Can't recommend highly enough! Thank you Jess!
Betsy – Cavapoo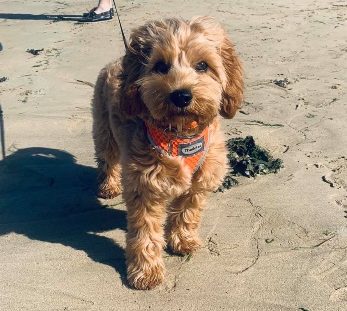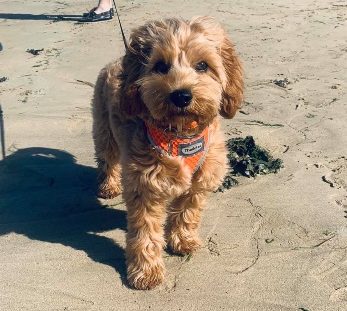 I cannot recommend this breeder enough….Jess is absolutely amazing & their puppies are perfect!
I had never had a dog before we got our beautiful puppy from Jess, I was worried we wouldn't stand a chance of getting one of these beautiful puppies for that reason….however Jess is so thorough when it comes to selecting the families that the puppies go to & we had many communications beforehand so we both felt comfortable with everything, Jess made us feel so at ease & we were so so excited when we got to meet our gorgeous puppy!
I loved that both the puppies parents were family pets & Jess & her family had been breeding for years. We were welcomed into their home where we got to meet the puppies with their Mama which is so important. Jess provided us with lots of information & answered my never ending questions & still does a year on, I know she is always at the end of the phone to answer my questions or concerns & she loves seeing updates on all of the puppies.
Our little Cici is the most beautiful girl, she has the most amazing temperament, especially with our children & we absolutely adore her. I wish I had a bigger house so I could have lots more of these gorgeous Henleypoo pups!
Cici – Cavapoo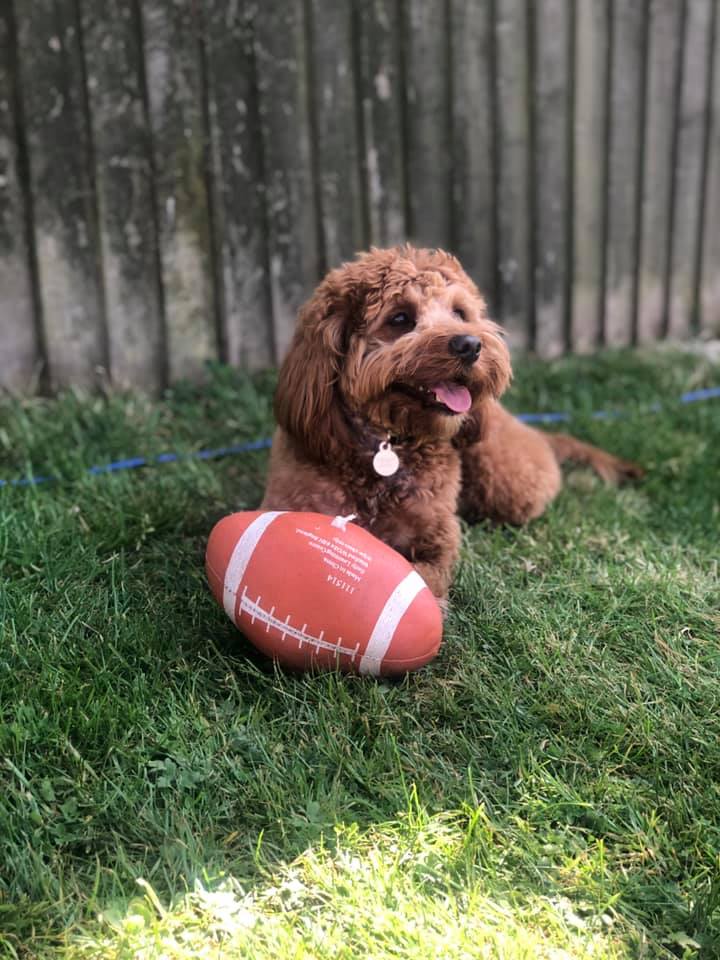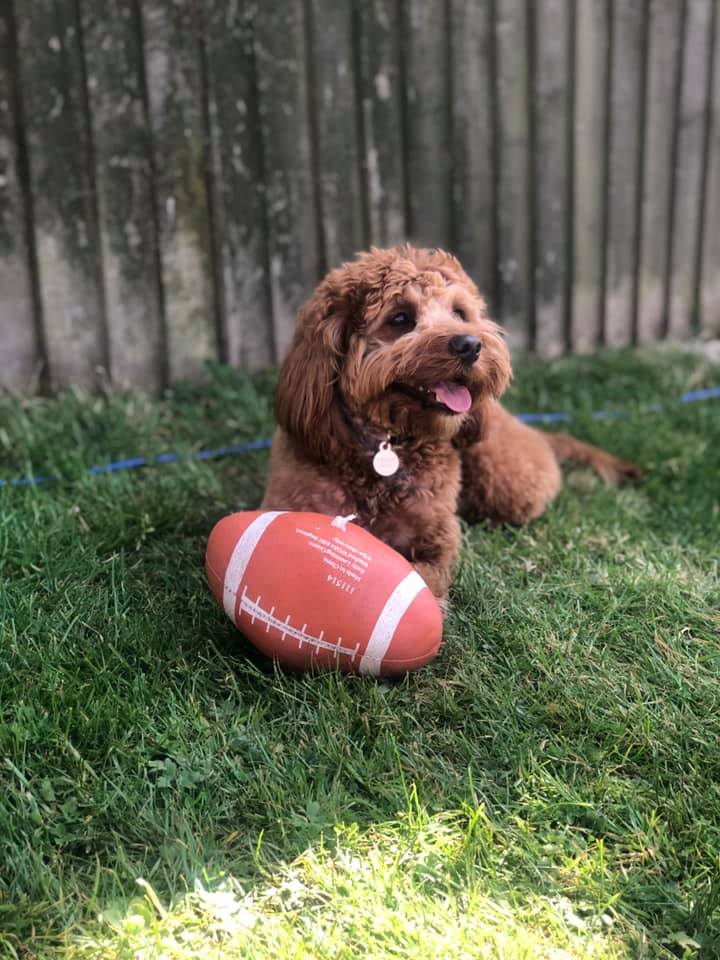 We are so thrilled with our Henleypoos pup Buster! He is a healthy, sociable, gorgeous boy and that is all thanks to the great start that Jess gave him.
Jess is a true diamond. Right from the beginning her communication was excellent and no question was too silly. It's clear she cares about her pups and makes sure that the homes they go to are the right fit. We are so grateful that she brought Buster in to our lives. He is perfect!
Buster – Cavapoo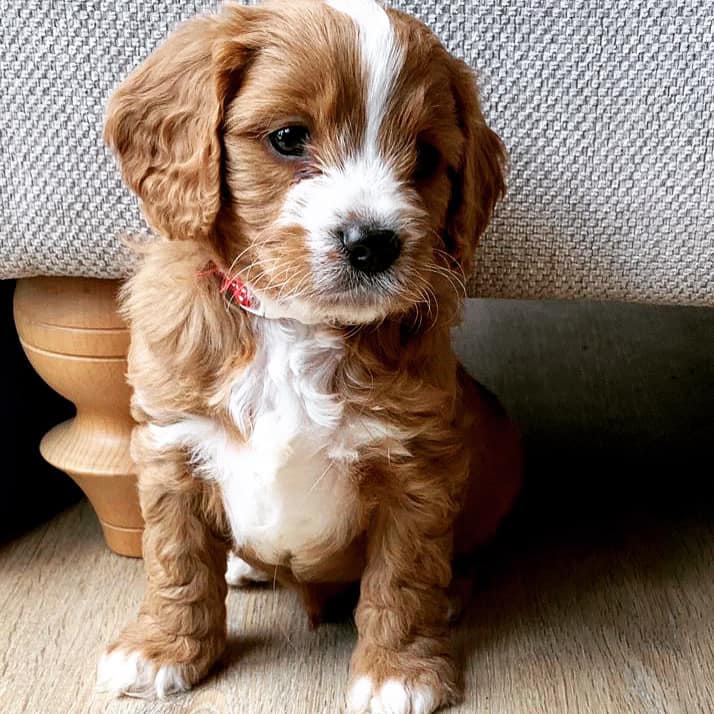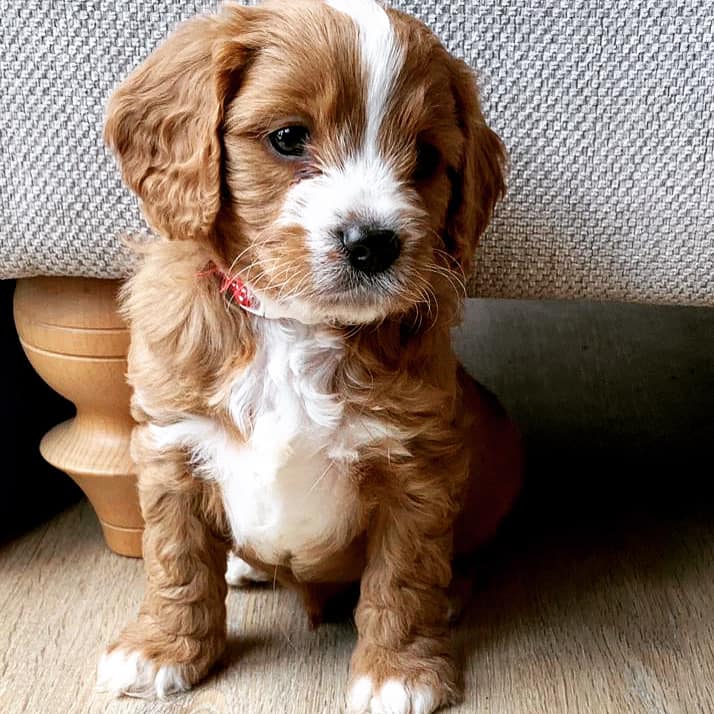 Looking for a good Cavapoo breeder seemed to be a minefield but we stumbled upon henleypoos and jess and our mind was made up that we'd wait for a pup from them. We were incredibly lucky to get Teddy as quickly as we did and from the start she has been nothing but helpful and a great support. We met Teddy's mother and we were given all the information plus about tests the parents had etc.
Teddy is 8 months now, has the best temperament and has been the best decision we ever made. Jess has been there, not only in the puppy phase but if I ever have any questions she's always there to help and I know she will be for the rest of teddy's life, because she cares. Sometimes I feel like we've joined a little henleypoo's family as I'm in touch with lots of other owners. I think this just shows how great they are as breeders.
I would 100% recommend them if you are looking to add a little "poo" to your life.
Teddy – Cavapoo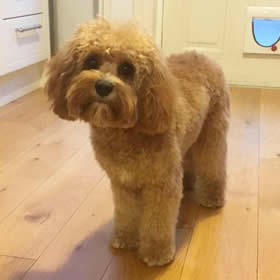 Rhubarb our Henley Cavapoo is such a great little puppy. He has been with us for just over five weeks and has settled in well, adored wherever he goes, friendly to all he meets. He is intelligent, fun, lively, playful, cuddly and loves his food, (especially chicken) he keeps us busy but we are loving having him after a four year gap of owning a dog.
After much research we decided on a Cavapoo, previously we had owned Border Collies. We were so lucky to find Henleypoos so close to home & after a few months wait jumped on the waiting list when we could.
A viewing of the litter with Pixie his Mum when he was five weeks old was so exciting and updates from Jess once a week until home time was much appreciated. It's wonderful to find a breeder that loves their dogs and puppies and cares soooo much!
The puppy pack that Rhubarb came home with is really informative & useful, well put together with info. on health, training, socialisation, feeding, grooming & exercise. Also info. on his pedigree parents including health check certification. He also had a blanket with his litter scent on and two fabulous toys all with his name embroidered on.
We feel so lucky to have Rhubarb as I know choosing a breeder can be rather daunting, he certainly was worth the little wait and Henleypoos have continued to be supportive and interested in his development.
He has his own Instagram account if you are interested to see what a wonderful Henleypoos pup he is; rhubarb_ourcavapoo
Thank you Jess and Connor……… he's brought us so much joy……..we love him x
Rhubarb – Cavapoo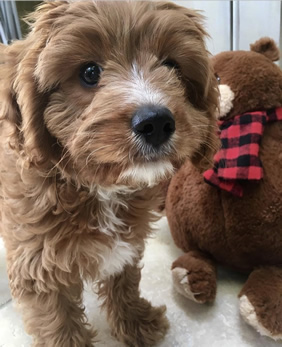 Just wanted to send you a message to say a huge thank you for my little Ivy.
11 weeks old and doing so well! She's such a bright, beautiful and happy little girl…with bags of energy and the biggest personality! Ivy's mad half hours are now legendary…😂
I'm so pleased I waited for a litter with you both. I knew you were the breeders for me as soon as I found your pages, and Michele you were fabulous all the way through. I can't thank you enough for raising your pups with such care and love.
As for Ivy, she can't wait to be walking out and about (being carried everywhere no longer cuts the mustard!) and she causes a fuss wherever she goes with people wanting to stroke her and ask what breed she is. I think I'll have to leave the house 30 mins earlier once she's on a lead to allow extra time for her to meet her public 😂!
She's such a joyous little thing, and always brings a smile to my face whether she's tearing around the house, asking for a cuddle, or in one of her many 'inventive' sleeping positions! I couldn't love her more.
Jess, thank you for coming back to me so quickly to say there might still be a little girl needing a home…and Michele for being so kind and welcoming, and for giving Ivy the most wonderful start in life.
Ivy – Maltipoo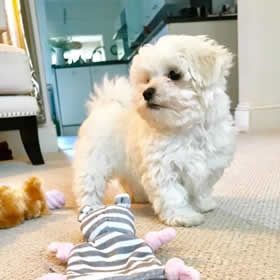 Here's Bertie.
He'll be 12 weeks old on Friday and will have been with me for 4 weeks. I cannot imagine life without him now.
He's gorgeous – hard work, but so worth it. Thank you so much to Jess for giving him the best start. He was definitely worth waiting for and I'd advise anyone to wait for a Henley pup. If you can't wait, be very cautious about where you get your pup from.
Thank you Jess from me and licks from Bertie 🐶🐾xxx
Bertie – Cavapoochon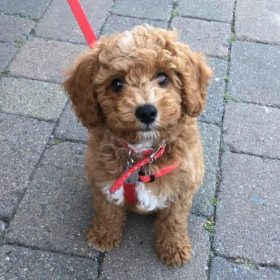 I am so grateful that after extensive research I have come across Henley Cavapoos & Maltipoos. Jess was fantastic from the start, very professional always answering my messages quickly and very soon after a few conversations I just knew that we are going to have the so long desired Maltipoo puppy from them.
One evening the most gorgeous Maltipoo puppy photo landed in our inbox and the moment we saw her, fell in love.
We received weekly photo and progress updates until the pick up date arrived.
Bimba is the most lovable, friendly, easy going puppy I have ever met…she came with a little blanket with litter mate and mum's scent, a toy both had her name embroidered, booklet, food for first week and meal vouchers for next orders.
I would like to thank you for your continuous and constant support given during this process, we are extremely happy and grateful for this little miracle we call now Bimba.
Bimba – Maltipoo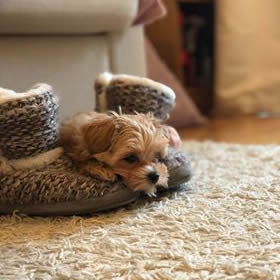 Our journey all started about a year ago, when we were having a rare night in. Following a couple of glasses of wine we decided we needed a little puppy to complete our family.
We just didn't know what breed to go for. Some of our friends have a mental Cockerpoo, and although a bit boisterous for us, we loved his cuteness, so a search for something similar ensued….
After scouring the internet for seventeen years (actually, it was a couple of months, but felt a lot longer) we stumbled across Henley Cavapoos on Facebook and excitedly decided to contact them. Looking back now, we are so, so glad we did. We could not possibly have asked for a better experience. Jess was amazing, answering any questions we had and contacted us to make sure we were ok when we got home.
Now, we have a 13 week old little boy, Alfie who is coming along in leaps and bounds, which has been a massive relief after us heart-breakingly taking him away from his beautiful mum Pixie a few weeks ago. He really is a beautiful dog and wherever we go It takes so long to get there because of all the attention he gets!
So, thank you Henley for providing us with such a lovely dog and letting us give him his forever home 💗 we can't wait to meet up with you all again xxx
Alfie – Cavapoo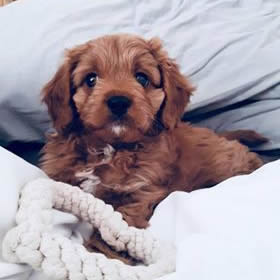 Beyond happy with Henleypoos. We have had little Ivy for just over 11 weeks now. She's the most loving, affectionate and intelligent dog. I have wanted a dog for three years but I wanted it to be perfect. I did so much research into different breeds and especially breeders.
Jess was amazing the whole way through. She sent me photos of Ivy and little videos of her playing so I really felt like I was a part of her first weeks even though I wasn't present. The whole process was so easy and well organised. I was given a little puppy pack with some food and a blanket with her mums scent and name embroidered on it, which she still sleeps with every night. I was also given certificates to show the parents and her had been health tested. Jess also asked me questions about living situation and how I would manage a puppy, which goes to show she really wants the best homes for these little ones and is really concerned with their well being.
So in love with my little girl, Ivy. I 100% would recommend Jess and Henleypoos. So professional and you feel apart of a little family. Thank you so much HenleyPoos!!
Ivy – Cavapoo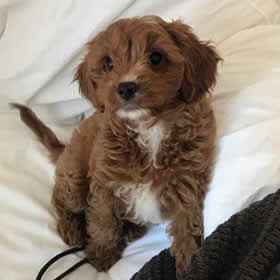 After months of research and years of waiting I found Henley Cavapoos online and immediately got in contact. I knew from first time I spoke with Jess that she would be who we would get our first puppy from. We got our gorgeous boy Elvis in May this year and it has been the best decision ever!
I loved that the puppies were born and brought up in Jess's home, and that she doesn't allow her dogs to have litter after litter. She did a fantastic job looking after Elvis until we could bring him home and he couldn't have had a better start to his life!
I can not recommend Henley Cavapoos enough!!!
Elvis – Cavapoo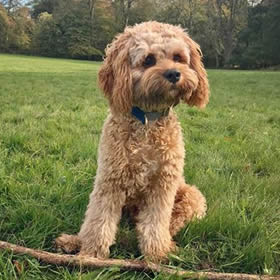 As a first time dog owner I did a lot of research but once I found Henleypoos I knew they were the right breeder for me. Jess and Conor were fantastic throughout the process. They were happy to answer any questions I had and I could tell instantly how much they cared for the puppies and their mums.
Luna was definitely worth waiting for and I can't imagine my life now without her in it. She has brought so much love and happiness to my whole family. She has a fantastic personality, loves people and playing!
Thank you Jess and Conor for bringing Luna into the world and looking after her in the first 2 months of her life 🙂 x
Luna – Cavapoo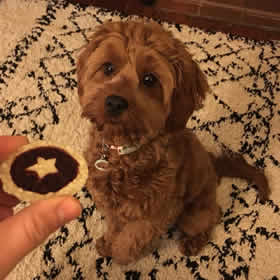 I am forever grateful to Jess at Henley Poos for our little Joey. He is an absolute dream puppy and we are totally besotted with him.
After searching for the perfect Maltipoo breeder for 5 years we came across Henley Poos online and quickly decided they were the perfect fit for us. We were happy to wait as long as necessary to get a pup from Henley Poos and when our little Joey came home with us, we were over the moon.
He is well behaved, easy to train, and has the most delightful personality. Calm, easy going, and brilliant around other people and dogs.
Thank you thank you thank you Jess!
Joey – Maltipoo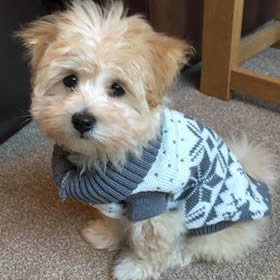 11 years of hopes for my eldest daughter and 1 year of waiting list later, we got our little maltipoo Mila.
I can't thank enough Henley poo for this little bundle of joy. I must say that they did an amazing job in the whole process of offering them the most suitable family and all the care that they provided to them but also toward us.
As a first puppy, we were quite stressed in the beginning and had many many questions.
she added nothing but extra laughs and happiness in our family of 4. She is so friendly, kind, playful, and smart. She is the cutest little thing I ve ever met.
Now I can't leave the house without being stopped by people, asking is she real? She is a dream come true! I want the same! What is it? Omg how cute!…haha
I was teaching my daughters to never speak to strangers, all gone now, she is a little star 🐶🌟.
She is now 4 months and 3.7 lbs so confident and full of energy.
We are all so in love with her ❤️
Thanks a million Michelle and Jess!
Mila – Maltipoo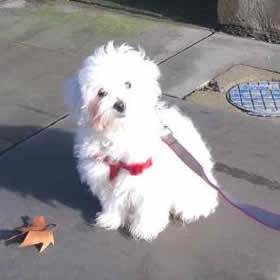 I highly recommend Henley Cavapoos & Maltipoos. From the first time I messaged Jess and was lucky enough to be considered for one of their gorgeous Cavapoos, I knew I had found the breeder for us. She answered all of my many questions and was very knowledgeable and professional. When we went to choose our puppy Jess and Conor were so lovely and we collected our gorgeous little girl Nellie on Saturday and she is perfect in every way.
Jess had prepared lovely packs that she had clearly taken a lot of time and trouble to do and gave us so much information to help us on our way. Nellie has fitted into our family so quickly. She is the calmest, most laid back lovely natured little dog. She is thriving on her Raw diet Jess had started her on and eats her meals within seconds. She has gone outside for every toilet since she arrived and taken everything in her stride. A real credit to Jess's lovely dogs and giving them the best start. Thank you so much Jess for our wonderful new addition we adore her.
Nellie – Cavapoo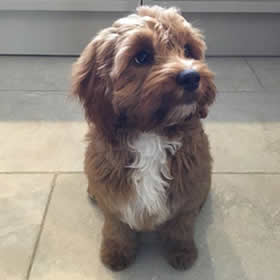 I have nothing but good things to say about Henleypoos. All my interactions were professional.
I went to go and choose my Cavapoochon, Simba when he was 4 weeks old and was shown all the paperwork in regards to his breeding.
Simba was with the rest of his litter and mother in the home very well taken care of.
I picked Simba up at 8 weeks old and he still needed his jabs before he was safe to around other dogs so I kept him home and let him pee on my terrace. He was really easy to house train.
Simba is a really easy going, friendly, joyful kind little puppy. I've made made a few friends through Simba because people fall in love with him so quickly!
He knew I was his owner 2 days after I had him despite the fact that he was around other people as well. He's now 7 months old and fully grown at 6.1kgs.
Given the chance I would get another dog from Henleypoos for sure!
Simba – Cavapoochon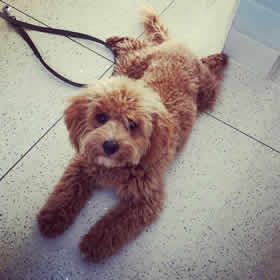 We have had our little Flo for only 4 weeks but we couldn't imagine our life without her already. She is the most sweetest, loving, smart but cheeky little lady. Henleypoos was recommended to us but I still did my research and soon realised that they were definitely the right choice for us and our little fur baby was well and truly worth the wait.
Jess was so nice, she replied straight away, kept me updated with pics and videos. I would highly recommend her to anyone. You can see she has the best interest at heart for mum and pups and as the say proof is in the pudding and well our little pudding is just perfect.
Thank you so much for giving us our girl.
Flo – Cockapoo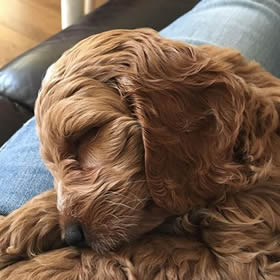 From day one of meeting Jess she was nothing but professional. I knew then she was the breeder for us. All the health certificates were laid out for me to see and She answered my many many questions about the best ways to train/raise a pup etc. Jess even agreed to keep our boy an extra week so we could go on a pre booked camping trip.
Jess really does breed the nicest healthiest pups. We are so lucky to have our pup Merlin, he really is the sweetest, most lovely natured dog we could of asked for. He is perfect!!
Thank you Jess for all your care and attention raising him in the early weeks and always being available to answer any questions even now 8 months on.
Merlin – Cavapoochon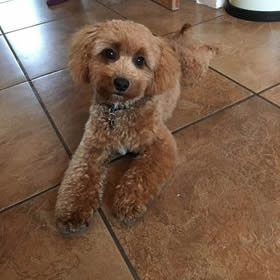 I am soooo thankful that I came across Henley Cavapoos and Maltipoos… from the start I had a good feeling about them and thought the wait will be worth it.. and it sure was worth it…I wanted a pup a year after so it worked out perfectly…
When we went to see our pup the first time, I was so nervous but they made us feel so comfortable. Coco is so loveable and absolutely gorgeous… lovely behaviour and a little cheeky, just the way we like him… they also had a list of things for you to get before your pup arrives, so useful… and focused on the necessary stuff..
I can't recommend them enough… so so happy with them and our Coco… thank you so much..
Coco – Cavapoo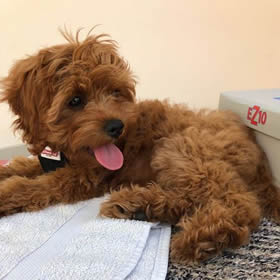 We found Henley Cavapoos and Maltipoos during our search for an ethical breeder with health testing for parents.
We were initially looking for a maltipoo and were waiting for Jess to open up the waiting list. I was happy to wait as I appreciate that her dogs have a decent time between litters, I feel strongly that this is important. As it turned out, we had the opportunity for a Cavapoochon, the last one left in the litter.
Our little Peanut came home 3 weeks ago and he is absolutely perfect. We couldn't have asked for a better puppy. He has a calm and patient temperament and his trainer commented on how he'll be a dream to train.
Once you find the right breeder it's well worth waiting. Even better if you can be open to having any breed that Henleypoos have to offer (they are all gorgeous!)
Peanut – Cavapoochon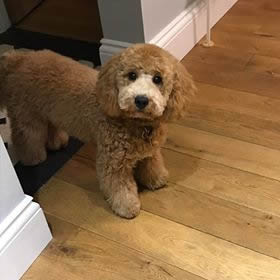 After extensive research we decided to wait for a Henley Cavapoo. We are so glad we did! Maisie is now 15weeks old and is fully integrated into our family already.
She sleeps in her crate 8hrs a night happily. She understands and responds to 'sit, come, down' already and is learning to heel. She loves to play fetch, a belly rub and a good cuddle on someone's lap!
She has a beautiful temperament with both people and other dogs, thanks to Jess' efforts in the early weeks. She is knowledgeable and professional and you can see that all her dogs are so well cared for. We love our Maisie.
Maisie – Cavapoo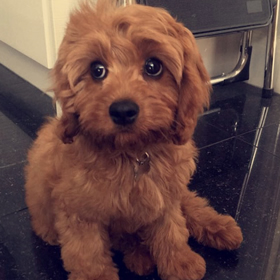 We had been looking into bringing a dog home for a while, when we came across Jess at Henley Cavapoos. We knew right away that we finally found the breeder that we can trust to provide us with a companion.
We were right; Jess was extremely helpful from the get-go till the end, and continues to be so. Highly recommended, thanks Jess
Bruno – Cavapoo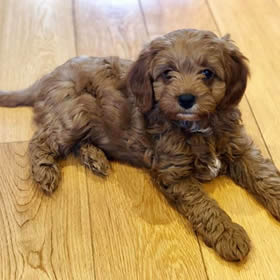 I can't recommend Michele and Jess enough… it took me months of research and calls to find a breeder I felt happy to get our puppy from, at first contact I knew Henleypoo's was for us as you can hear and see how much they love their dogs.
We got our beautiful little Winnie in November last year, we were able to ask any questions we had, we got to meet both parents as well as having continual support even till this day! From the second we chose Winnie we had photo and video updates to see how she was progressing and when it was time to pick her up she came with a lovely puppy pack including a embroidered blanket with her name on.
Winnie is the most loving puppy and this is because of the great environment she was brought up in, you couldn't wish for anything more in a breeder and a dog. I recommend them to everyone as they are just brilliant!!
Winnie – Maltipoo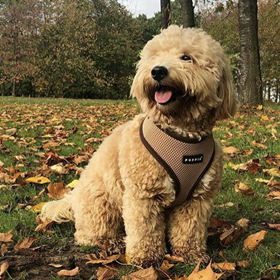 We have had Buster and Lulu for a year now and have not looked back. They are the most amazing dogs, such a lovely temperament with children and adults and so loving. They are also clever and easily trained.
Henley Cavapoos were fantastic from the start, Jess was so friendly and approachable. From our first telephone conversation she could tell how desperate we were for another dog after losing our Tibetan Terrier so that when she had someone drop out she phoned me immediately and offered me Buster.
When we arrived at their home which was so clean and tidy, both of Busters parents present and all the necessary documentation was ready for us to see. We were so happy with their professionalism that we decided to buy Lulu from the second litter.
Ever since then Jess has always made time to answer any questions that I have and offer advice. Henley Cavapoos never forget their babies and always want to know how they are getting on, which is so lovely. I cannot recommend them enough !!!!
Buster and Lulu – Cavapoos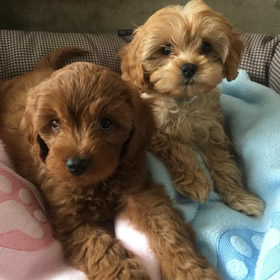 This is Rosie she will be 2 years old in January. It was by luck we came across Jess at Henley poo's, Rosie has been an absolute delight & the love of our lives!
We can't recommend Jess & Conor highly enough. They have a true love for their dogs who all live in the family home.
We have been so impressed with them that we are going to collect our second puppy soon a sister for Rosie you can't get a better recommendation than that!
Rosie – Cavapoo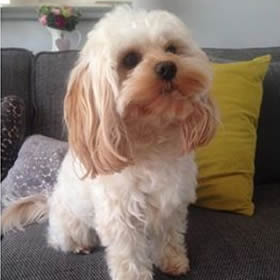 Ellie – Cavapoo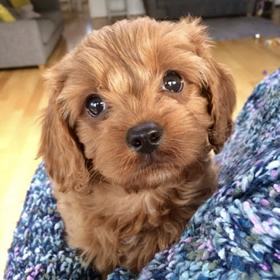 I can't recommend Henley cavapoos and Maltipoo's enough, Michele was amazing from day one! We met both parents and all the little pups where we chose our little Darcy, Michele sent weekly updates and when we picked her up she gave us a great puppy pack with lots of information in it, a lovely blanket,toy,treats and some food.
Darcy is now 4 months old and such an amazing happy little pup!
Thank you Michele for giving Darcy such a great start in life xxx
Darcy – Maltipoo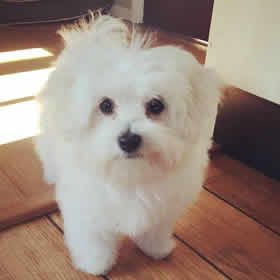 We have had Susie a week now, we picked her up from Jess a week last Sunday. She couldn't have been more helpful! Susie came with a weeks food & vouchers for more food. She didn't eat much the first couple of days, but since then is eating well, firm poos, easy to pick up!
We have had three dogs previously, so knew what to expect, Jess was helpful filling the gaps in that we had forgotten! We both love Susie to bits, despite the broken nights etc, as we know that they grow up too quickly!
Thank you Jess for breeding such lovely puppies xx
Susie – Cavapoo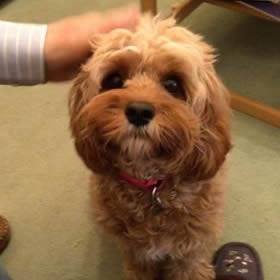 We are first time puppy owners and are 3 weeks into having our gorgeous Cavapoo, Ossie, from Henleypoos. We cannot recommend Henleypoos highly enough, from our very first enquiry to choosing our pup Jess was highly professional, friendly and always prompt in replying to any of our queries along the way. Having done thorough research on Cavapoo breeders we knew that Henleypoos was our first choice and were happy to wait for a puppy, and I'm so pleased we did. We have the most loveable, sweet-natured, intelligent pup – worth waiting every minute for.
When we first met the puppies we were highly impressed with the warm, loving and homely environment. All relevant paperwork was available for us to inspect. Between choosing Ossie and bringing him home, Jess kept us up to date with his progress each week.
Thank you Henleypoos for your hard work and dedication, the whole reason why we have such a happy, sociable and loving Cavapoo who we wouldn't be without!
Ossie – Cavapoo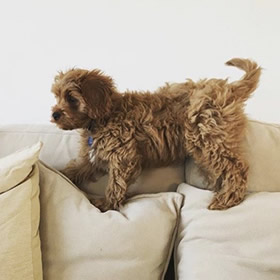 We have had Oscar (Cavapoo) for just over 3 weeks and couldn't be happier! He is the most affectionate, gentle, intelligent and fun loving little dog and we already can't imagine life without him.We had been looking for a Cavapoo for ages but really struggled to find a reputable breeder. We came across so many breeders who were obviously just doing it for the money and we were starting to lose hope. We were then recommended Henley Cavapoos and instantly you could tell they were different. Not only do they health test the parents, they are also an absolute pleasure to deal with and Jessica is happy to answer all your questions – it is immediately apparent that her number 1 focus is to find the best new homes for their puppies.
Therefore, if you are looking for a great breeder with the most amazing dogs, honestly look no further, it is totally worth the wait, you won't be disappointed!
Oscar – Cavapoo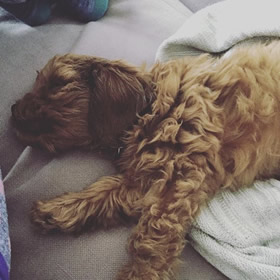 Our beautiful little Florence is our first dog and we waited a long time to find the right breeder before committing to a puppy. Michele & Jess were so open and transparent from the start and so helpful, it just felt so right, and I knew they were the breeders for us. We saw Florence with her mum and dad and instantly fell in love.
Michele sent us video clips and photos of Florence and kept me informed of her progress all along until we collected her. She had prepared us a puppy pack full of everything we would need, including a beautiful blanket embroidered with Florence's name. She knew we were novice dog owners and was so keen to help us get it right and provided us with so much information, tips and advice. Florence is a lovely natured, happy little soul, with beautiful fur and clear bright eyes. She has made our home complete. We can't fault Henley Poos and highly recommend them.
Florence – Maltipoo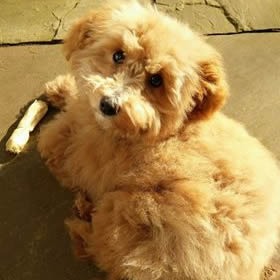 Thank you! We couldn't be happier with our Milo! He's 15 weeks old now. We first visited him at Henleypoos when he was four weeks old and he was the quietest cutest little thing as he was the only one in the litter. He did have lots of grown up playmates though in their home. His mother (cavalier King Charles) was with him all the time when we visited and she was absolutely adorable.
We got weekly photo updates of how Milo was doing. We collected him at 8 weeks old, he came with food, a toy and blanket with his name on and lots of puppy information. He had his first vaccination and was microchipped. He was fed on raw food which we still feed him and he loves. Now he's a lively bundle of fun who loves to play with lots and lots of toys. Milo is the best 😊
Milo – Cavapoo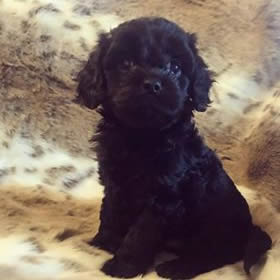 Writing on behalf of my grandparents who aren't online. They have recently just got their gorgeous cavapoo Amber. My grandparents were on the waiting list for a long time and waited for Amber which they would say now was so worth the wait.
Jess was very approachable and answered many phone calls from my grandparents before and after getting Amber, always happy to help with questions and queries. And me being the person to be in contact via here for my grandparents they were very responsive and helpful. Would highly recommend x
Amber – Cavapoo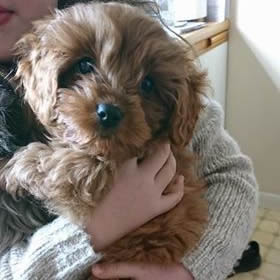 When we started to look for a Maltipoo after losing our beloved one of 15 years old we found Michele. I didn't look any further. The whole thing from start to finish was perfect and very professional. I was welcomed into Michele's family home to see the puppies with mum and dad present. I stayed as long as I wanted and found it very difficult to choose as they were all gorgeous. After choosing a puppy I left a deposit to secure her. Michele kept in contact with me and sent me pictures of Daisy and also told me when Daisy had been to the vets for jabs and check ups.
On the day of collecting Daisy my husband and daughter were welcome to come with me. Daisy left with all her paper work, toys, a blanket, food, treats. She was wormed and fully vet checked. She knew how to use a puppy pad for toilet training. If I was going to get another puppy I would definitely use Michele and Henley Poo's again. Whoever reads this I wish you the best of luck with your new fur baby, you won't regret it. Beautiful dogs and breeders.
Daisy – Maltipoo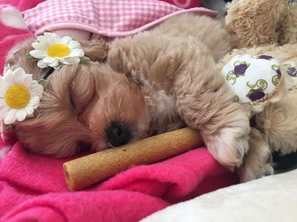 I can't recommend Henley Cavapoos enough, they're amazing breeders of the most perfect pups. Pudsey is our first dog, we did a lot of research to find the right breed for us and we knew how important it was to also find the right breeder. From first speaking to Jess we felt confident we'd come to the right people. It was obvious from first meeting Pudsey that he was being raised by extremely professional but also very caring home breeders. They were very happy to answer all my (many!) questions. We met both mum and dad, and were sent regular updates and photos of Pudsey's progress and development.
When we picked Pudsey up Jess had prepared a beautiful puppy pack with all the information and paperwork we needed, plus food, toys and even a personalised blanket. Henleypoos breed healthy, happy dogs and we couldn't be happier with our gorgeous Pudsey. He's an incredible dog, the perfect addition to our family. He has a wonderful loving nature and is a genuinely beautiful dog. Thank you Henleypoos for giving Pudsey the best start in life! If you're lucky enough to get your pup from Henleypoos you certainly won't be disappointed! x
Pudsey – Cavapoo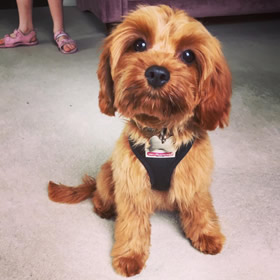 I can't recommend Henley Cavapoo and Maltipoo highly enough. From first meeting Michele and her lovely family when Rafi his siblings and both parents at 6 weeks old until the day we collected him we knew what a fantastic start Rafi had been given. Everything was explained and taken care of in such a caring professional manner. Nothing was too much trouble.
The after care has been great. Michele and Jess are always at the end of the phone if I needed any advice settling him into his new home.
If you decide to choose your puppy from them you won't be sorry.
Thanks for everything.
Rafi – Maltipoo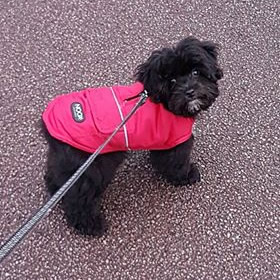 We had a fantastic experience when we got our Cavapoo, Lola, from Henley Cavapoos & maltipoos. From the moment we chose her they kept us informed of her progress, along with regular pictures. We also got to meet both mum & dad in their home environment.
A very professional breeder with all paperwork in place. I feel very lucky that we found Henley poos & that Lola was given such a great start in life.
Lola – Cavapoo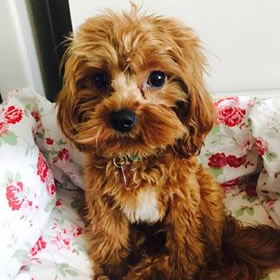 From the moment we spoke to Michele we knew we had found a proper breeder. Very pleasant on the phone. When we arrived we did not see the puppies straight away. We had a chat with Michele and her husband. They were getting to know us and get a feel that we would be good owners. They were both warm and friendly and welcoming. All the time mum and dad were walking around us and I got to have cuddles with them.
Then we got to see the puppies. They was set free from the safety of their crate. We didn't choose as Peanut found us. On the day of getting our Peanut Michele was so helpful and rest assured us being first time dog owners. We got a puppy pack with everything you needed for them first few weeks. There has been great contact even now photos get sent with updates on Peanut. Choosing Henley Maltipoos you can be rest assured your puppy is coming from a warm and caring family.
Peanut – Maltipoo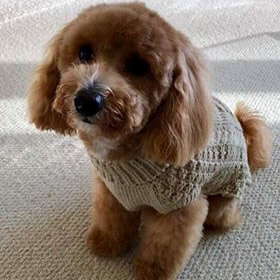 Just wanted to say how happy Monty is with us and how happy we are with him. We love him sooo much and he is a perfect little dog, now fully house trained by ringing a bell I have hung on the curtain by the door to go out… clever!
He has had his 6 month check it and all ok! We wanted a dog for such a long time and I feel he was waiting for us to have him. I don't know how we ever lived without him! Thank you again x
Monty – Cavapoo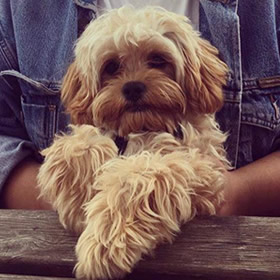 We had a really good experience when we got our Maltipoo puppy Alessia. We got to meet both parents and saw the mum with the puppies; she seemed to be a very good mum. We were able to ask loads of questions without feeling that we were putting them out or asking something silly.
The pack we got when we collected Alessia was great, treats, a toy, a blanket that had been with the mum and a great information book. Totally recommend Henley Cavapoos and Maltipoos.
Alessia – Maltipoo